How to Scale Internationally with No Warehouse Footprint
January 16, 2017
8

min read
Growth is great for business; it means more opportunities, more partnerships, and more more sales. However, due to complicated logistics, expansion is also one of the biggest risks of online businesses.
For e-commerce stores looking to expand, international markets are prime opportunities. Countries like Germany and Brazil also have some of the fastest growing markets in the world, which makes them a tempting target for expansion. Buyers in certain countries may also be unable to source American products locally, and turn to international sellers to fill their needs. If your brand manufactures a unique product, there may be more international demand than you expected.
International markets are exciting and full of potential, but they also present expenses that could make or break your profits. The largest of those is international logistics; Warehousing, shipping, customs, and other costs.
You can overcome these expenses by making smart choices for logistics partners, shipping solutions, and scaling at a reasonable pace. Many e-commerce businesses can scale internationally with no warehouse footprint, and greatly reduce the costs and risks of expanding into a new market. Without warehousing costs, even small businesses could successfully expand into new markets without the traditional risks.
Research your opportunities
The first step into expanding is to ascertain demand in your new target markets. It doesn't matter how affordable the logistics are if there's no demand.
It is crucial that you spend a significant amount of time in market research before expanding into any new channel. This is doubly true for international sales, which present more risks than moving to a new sales channel or selling in another state.
If you want to succeed, take the time to identify your market demand, marketing opportunities, your target audience, potential consumers, and your international channels and opportunities.
An international Pitney Bowes study showed that 40% of respondents have made a purchase from another country. People from around the world shop in the USA, the UK, and Germany more than any other countries, including their own thanks to the many choices in those countries.
While Canada will remain the largest cross-border sales opportunity for most American sellers, western Europe, Asia-Pacific, South America, Central America, Japan, the UK, and many other individual markets offer opportunities for e-commerce. For most, the largest opportunities (and lowest costs) remain in English-speaking countries, whereas non-English markets like Germany and Brazil are among the fastest growing in the world.
Consider the following questions when venturing into a new market:
Is there a demand for your goods?
Which markets present the best opportunities?
What are your goods worth at total value (including shipping and customs) to your audience?
What channels can you utilize to best reach your target audience?
In most cases, you should scale into one new market at a time, allowing you to control costs and deliver products where they are most in-demand before investing in another area.
Expect challenges
Although not impossible, international expansion does have a healthy set of challenges. Some things you'll need to think about include language and translations, cost of goods, consumer demand, and total costs of goods.
For example, there will be a maximum rate, including shipping and import fees your customers will be willing to pay. Can you keep the total cost of goods under that rate to ensure customer satisfaction?
Once you incorporate your products into local channels, or introducing your own, you'll have to research your international competition. This could be difficult due to language barriers, currency, and local customer support skill levels.
Each of these challenges could add new dynamics and unexpected costs to your e-commerce sales. Today, we're addressing the most expensive consideration; local warehouses and your alternative options.
Option 1) Integrate tools to help you ship internationally
Shipping internationally is a good option if you want to keep your production and storage processes the same. International shipping will allow you to sell to new markets with minimal changes to your existing company structure, and is fairly simple when you integrate an international shipping tool into your existing distribution options.
International shipping allows you to expand into a new market through your existing channels without any additional work other than improving your logistics services.
According to Pitney Bowes, the top reasons consumers shop outside their country are price (68%), availability (46%), and selection (38%). Even with international shipping rates, many potential customers could save money when purchasing your product online. This is especially true in countries like Australia, which offer a high duty threshold, allowing citizens to purchase large amounts internationally before paying customs fees.
International shipping can affect customer satisfaction
Despite the convenience, international shipping could take a long time. Delivery could take one to six weeks, depending on where you're shipping to, and products could get stuck in customs for months at a time. There are some countries where customers will then have to pay high duty fees to pick up their product.
This inconvenience and long wait time could negatively impact your reviews an customer satisfaction, even though many issues will be out of your control.
This means that to successfully scale internationally with only international shipping, you have to integrate a solution that provides international tracking, reasonable shipping costs, and either an estimate of or the ability to pay duty fees ahead of time.
eBay accomplishes this in-house with their Global Shipping Program, but offsets the value of their program with high costs and added wait times. Amazon's FBA also provides this service, allowing you to easily scale to German, UK, French, and other Amazon stores with very little effort on your part. Other solutions include FedEx Cross Border and Pitney Bowes, which specializes in international shipping.
Option 2) Use third party logistics
The saying goes that if you want something done right you have to do it yourself, but in e-commerce, that's often the opposite of the truth. Handling your logistics off to a quality third-party supplier can save you time, money, and headache while ensuring quality in markets you aren't familiar with.
Third party logistics, or 3PL solutions, can allow you to rapidly insert into markets with little upfront costs by providing local shipping, warehousing, and even packaging solutions for you.
You will save on costs and implementation while still ensuring customers receive products quickly. You can also source to a local manufacturer to avoid paying customers and import fees.
This has both pros and cons for most buyers, who must consider the risks associated with entering a new market and shipping a large volume of products or having them manufactured in the country.
Don't lock-in with a third-party provider right away. Review your logistics solutions and choose one you can build a long-term, healthy relationship with. Choosing the right third party logistics partner is crucial to your brand, packaging, delivery, and inventory.
Your 3PL fulfillment company will take over shipping, distribution, and warehousing. This means they'll be responsible for local inventory, packaging, and more. They need to have the same standards and quality assurance that you do, and be able to scale as you do. They should also provide transparent data that you can trust. In this sense, you need a partner rather than simply a shipping solution.
Here are some considerations when selecting a 3PL
Can they print your packaging in the local language? (If it isn't an English-speaking country)
Can they handle your warehousing and shipping?
Can they integrate with your e-commerce platforms and provide transparent data?
For example, if you intend to import products to your destination country, your third-party logistics must be able to handle multi-country distribution, customs, and hold international warehouses. You may also want to distribute to several EU countries from one central location, such as Germany, and your 3PL should be able to provide this service.
Invest in powerful international inventory management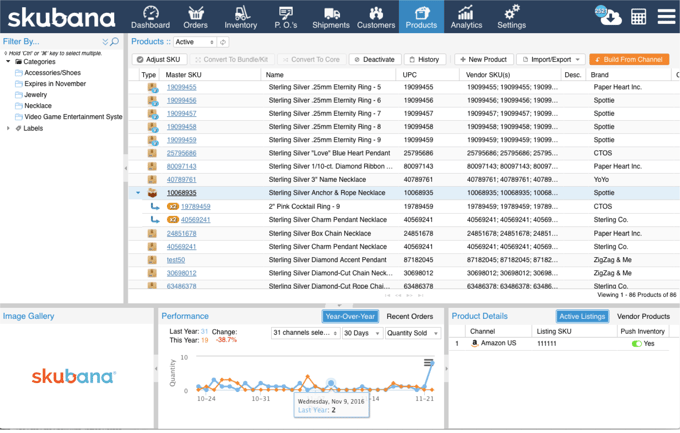 Ideally, your inventory management tools are already powerful and complete enough to expand as much as you want. However, if they aren't, you'll have to get them up to par. Use a tool that can handle your international markets, separate them, and allow you to quickly see actual costs and profits per market, per channel. This is crucial to controlling your international inventory and costs, managing your profitability, and reviewing your new channels and markets for profitability.
You'll need data on your supply chain to track returns, delivery time, and actual sales to fully check the success of any new market venture. This is especially crucial if you are selling on different Amazon platforms and must maintain individual stock per platform to successfully ship out to each country.
Finally, be sure to fine-tune your inventory forecasting for different markets. There will be changes in seasonal demand depending on country. For example, some East Asian countries don't observe Christmas the same way as America.
International expansion is a worthwhile investment that shouldn't be rushed
Scaling into international markets allows you to take advantage of growing opportunities, huge market demand, and consumers that you couldn't access by staying local. While the high costs of international warehousing can be a concern, you can work around that with international shipping or by partnering with a logistics company that can provide their own warehousing.
However, it is still crucial that you ascertain market demand, understand your costs, and price your products accordingly.
Growing your business is never easy, but international markets can provide an exciting challenge and an opportunity for expansion. Hopefully these tips will help you how to scale internationally and take steps towards an even healthier business.
Written By
Chad Rubin
Chad Rubin is the co-founder and chief executive officer of Skubana, a multichannel e-commerce software the enables brands to unlock growth by unifying their back-office operations.