Identify, Strategize, Attack: How to Go Multi-Channel with Your E-Commerce Brand
October 4, 2017
7

min read
If you make your money selling online, you may have considered being on more channels than just your shopping cart storefront. Could you benefit from selling on Amazon, eBay, Overstock, or the infinite list of other marketplaces? Where do you even start?
[bctt tweet="Identify, Strategize, Attack: How to Go Multi-Channel with Your E-Commerce Brand" username="skubana_erp"]
When you look at the statistics, it's clear that e-commerce is booming and will only continue to grow. From 2015 to 2016, online shopping went up by 45% to an impressive $327 billion. This means that more channels and marketplaces are opening up, and more people are turning to them to make their purchases.

IMAGE VIA KINETIC GROWTH
It's like Wayne Gretzky says: You have to go where the puck is going, not where the puck is. If you're not forward-thinking and proactively entrepreneurial, you're going to miss your shot.
I know firsthand how daunting it can seem to go multi-channel and deal with all the challenges, from multichannel shipping to inventory &. order management. But once you've done your research and developed a clear strategy, the online world is your oyster.
Started from the Bottom, Now We're Here
Let me give you some background on my business and how it's evolved over the years. I was on Wall Street covering internet stocks, which was my first introduction to e-commerce. During that time, I helped my parents struggling vacuum store by building an e-commerce site for them and getting them on Amazon.
When I got laid off from Wall Street in early 2009 after the crash, I started Crucial Vacuum, having my own vacuum parts manufactured in China and going direct-to-customer from the factory. It scaled extremely quickly, and soon I expanded my SKU diversity as Think Crucial was born. Along the way, I recognized the glaringly unfulfilled need for an e-commerce operations software that unifies all channels and marketplaces and is built for higher volume sellers, so I developed Skubana.
Now I'm in the top 1% of Amazon sellers, but I also sell on more than 15 other channels.
I definitely had my fair share of struggles along the way. After being suspended on Amazon, I realized that it's non-negotiable to have a truly diversified business. So I changed my strategy – and thus my business model – and found my niche in the multi-channel, multi-marketplace realm.
E-Commerce Is a Real-Life Game of "Monopoly"
Who doesn't love a game of Monopoly? You're familiar with a winning strategy. Own real estate across the whole board and the money keeps rolling in. Park Avenue, the utilities, the railroads: Wherever your audience will land, be there when they arrive.
Such is the world of e-commerce. Sure, your website might be bringing in some good business. But Amazon accounted for 60% of U.S. online sales growth in 2015. Frankly, it's hard to stay relevant in a competitive environment if you're missing out on channels with high volume and critical exposure. Just like in Monopoly, you need to be wherever a potential customer can click.
IMAGE VIA DANIELBROCHE, FLICKR
Key Considerations for Developing a Strong Multi-Channel Strategy
Once you've had your "a-ha!" moment, it's time to draw up your game plan. Here are some elements to consider, in no particular order of importance – because they're all really important!
Go After Your Core Competencies
You only have so much time in a day. As the most important stakeholder and decision-maker in your business, it's imperative that you focus only on the best uses of your time, then outsource and automate the rest, especially operations. A little give and take.
My core competency is brand-building and multi-channel e-commerce marketing. Fortunately, I realized this very early in the game, and was able to mold my business model to fit my best chances of succeeding.
Take automating purchase orders for example. Instead of scrutinizing your sales velocity, supplier lead times, and available stock, find a technology that takes this tedium off your plate and out of the realm of human error. (Spoiler alert: Skubana can help you with that.)
Stand Out with A Quality Brand & Unique Value Propositions
This sparks the debate of whether you should be manufacturing your own products – cultivating your own distinct brand instead of reselling other people's items, or being a private label brand. While you can thrive in a multi-marketplace world with both models, I believe direct-to-consumer is the wave of the future.
When we were a reseller, we had more than 10,000 SKUs and were much more focused on longtail purchases. Now that we manufacture our products, we have 700 SKUs with the Crucial brand. This is significantly less SKUs, but they're self-sustaining with a much higher margin, and we had a direct relationship with our customers.
The vital difference is being able to build a credible, trustworthy, and consistent brand that shows customers the consideration and effort you've put into building and maintaining it.
And then there are the extra steps you take to instill value: quality and durability of the product itself, free shipping and returns, top-shelf customer service (talking to a real human is a rare treat these days). Even unique offerings like how we plant a tree for every 1,000 vacuum filters we sell.
IMAGE VIA CRUCIAL VACUUM
Cater Your Content to Each Marketplace
Remember this as one of the 10 Commandments of Multi-Channel Selling: All marketplaces are not created equal. You can't afford to slack on your content development, and you absolutely cannot scribble up some content and descriptions and slap them onto all the channels you're selling on.
For starters, this duplicate content strategy is a red flag for search engines like Google. And you know better than to piss off Google.
Each channel has its own unique drivers for success – what the channel itself requires, what its algorithms look for, and what its users respond best to.
For example, your storefront should be your golden goose of quality, the "A+." Amazon should be next in line with an "A", and believe it or not, cheaper-looking listings sell better on eBay… those can be an "F." It's all about scoping out demand and your subsequent opportunities to fill it.
Outsourcing & 3PL
I got rid of my warehouse and moved to an outsourced environment, which was a third-party logistics company (3PL). Not only do they do it better than I ever could, but they also forced me to be more efficient, and frankly, to grow up. I put barcodes on all my items, box cartons, and my overhead expenses and scale and contract with our throughout.
3PLs are perfect for the morphing and growing business because you're not locked into that five-year lease agreement that can turn out to be a five-year death sentence. It's a variable cost that expands and contracts alongside your expanding and contracting business. Plus, you're the customer now, and you don't have 19 employees on payroll anymore, with payroll insurance, workers company et al.
I can't say enough good things about outsourcing your warehouse so you can focus on growing your e-commerce brand.
Inventory Management Across Marketplaces
You may start out with an e-commerce shipping tool, only to find that you're lacking tons of functionality and might need five or six other softwares to actually run your business smoothly. Warehouse management software, shipping (and drop shipping) software, inventory software, 3PL software, purchase order software, profit tools – and spreadsheets as the rotten cherry on top. Then you're still managing inventory latency between them all and it's highly inefficient.
What a headache.
When it comes to solving this problem, there are dozens of entry-level softwares that make a lot of promises. But you get into the car and realize there's no engine. You can't drive.
That's when I developed Skubana for myself, before I even planned to offer it to other business owners who shared my struggle. It's an all-in-one solution, built to unify all the fragmented and disbundled softwares – all on the cloud, done like no one has done it before, for a fraction of the cost.
Exclusively designed to accelerate the growth of high-volume merchants, Skubana offers order management, shipping, inventory, ERP, and business intelligence tools that redefine multi-channel selling in the 21st century.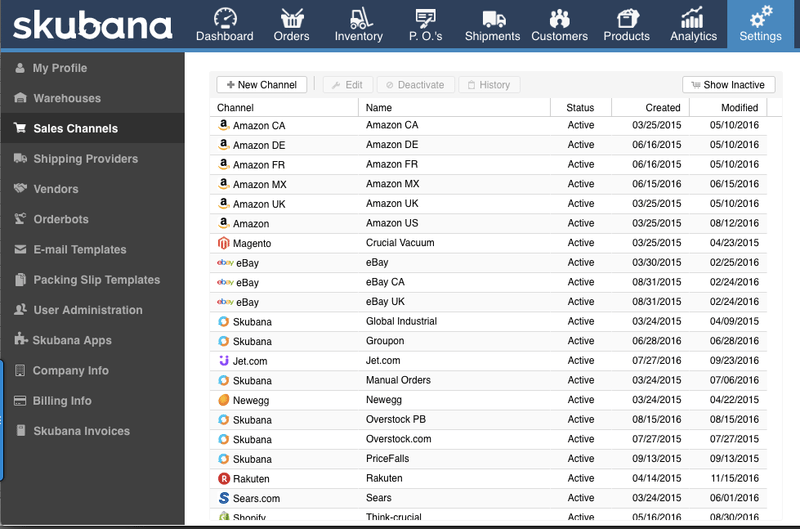 IMAGE VIA SKUBANA
Getting the Ball Rolling
I strongly encourage you to dive into the research and into a multi-channel and multi-marketplace inventory management strategy. Keep an eye out for part two, where I'll discuss the more nitty-gritty aspects of getting started, like marketplace compliance and managing all the moving parts.
Written By
Chad Rubin
Chad Rubin is the co-founder and chief executive officer of Skubana, a multichannel e-commerce software the enables brands to unlock growth by unifying their back-office operations.