Driving Sales By Empowering Shoppers - Recording
September 8, 2020
49

min read
Relationships are hard, especially when the other half has all the power.

And when it comes to brand-consumer relationships, that has become the status quo. It's consumers who dictate the shopping experience. They wield their influence and what do they want? Cohesiveness.
If you want to learn how to maintain long-lasting relationship with your customers, our industry experts share insights and best practices about how they enhance the eCommerce shopping experience to power global sales.
Watch the replay right here or read the transcript below: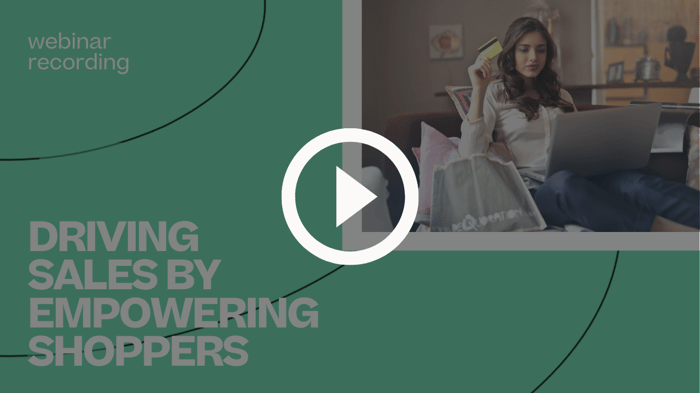 Transcript
Brad Paterson:
Hello, everybody. Welcome to another webinar here presented by Splitit with some great guests and panelists we have here for you today. Very excited for the discussion that we have coming up. I'm the CEO at Splitit. My name is Brad Paterson. I'm based here in San Francisco. We're headquartered here in the US, but also are offices around the world. And this will be, we'll have our topic today actually around global expansion, which we're looking forward to. And we have quite an esteemed global set of panelists here as well. Unfortunately, Nicole from Retail Minded has fallen ill and is unable to join us for today, but, however, we have three incredible guests. We have Christian Steyer from Canyon, we have Chad Rubin from Skubana, and Les Yates from Instasmile. So I'm gonna hand over to our guests to introduce themselves. Maybe give us a bit of background, guys, about you, your company, and also tell us something fun about you so we can all get to know you a little better. So, Christian, why don't we start with you?
Christian Steyer:
No problem, yeah. I'm Christian Steyer working for Canyon. And what is Canyon? From those who were at the last panel, they actually know of me and Canyon, but I'm just telling it again. Canyon is a direct-to-consumer bicycle brand. And we do sell to, I don't even know the exact number, but we do sell to around 80 to 90 countries around the world, including the US and all over Europe. And I'm working for Canyon since five years now and doing business development, customer solutions, which focuses on payment, which is why I'm in direct contact with Splitit. I'm also doing the account section where the customer can log in and doing all the stuff by themselves. And I'm also doing the customer data flows at Canyon. And, yeah, basically that's it from my side.
Brad Peterson:
Thank you. Chad, why don't we head over to you?
Chad Rubin:
Sure, sure. Hi, everybody. My name is Chad Rubin, co-founder of a software called Skubana. If you think about it, it's never been easier to sell online direct-to-consumer and going direct to everywhere, and we manage the complexities of the backend operations to run and automate your business. Very, very akin to Shopify, just like the yin to their yang. I started Skubana out of a need, which was actually running my own direct consumer business called Think Crucial, where we manufacture home appliance parts and accessories and we sell direct-to-consumer. I sell on 15 different channels. I have two different warehouses. That business is automated with one employee. We let technology, our technology, really run and automate my business. And we now support companies like Bird scooters, and Hubble Contacts, and Young and Reckless, and a whole host of other direct consumer brands. Happy to be here and thanks for having me.
Brad Peterson:
Great. Thank you, Chad. And Les in the mighty Liverpool.
Les Yates:
Hi, everyone. I'm Les Yates, managing director of Instasmile. So Instasmile, a alternative to traditional cosmetic dentistry. So typically cosmetic dentistry around the world is serviced by dentists where you go to a physical dentist's office and have treatment surgically performed, which can be also expensive sometimes. So we provide an alternative way of doing that online, where it's a complete at home experience for the consumer. And then utilizing cheaper pricing and also consumer credit payment plan options, we're able to provide significantly more affordability to the markets as well. So we currently operate in four international regions, but with cross-border all over the world. So we currently service probably over 100 countries to date have purchased one of our products. And again, everything is a completely at home experience and everything is done via our offices.
Brad Peterson:
Fantastic. Thank you, Les. Thank you, everybody. So we have Christian in Germany, Chad in New York, and Les in Liverpool in the UK. So it's a global panel. I'm looking forward to talking about a number of different things, really around eCommerce growth, and also global expansion and cross-border sales. Before we jump in, one quick housekeeping item, we will open up the last 10 minutes to Q&A so you'll be able to submit your questions through the chat panel, I believe. And we will get to those questions in the last 10 minutes. So submit any questions you have for the panelists there and we will try to get through as many as possible, and I'll ask the panelists those questions at the end. So let's jump in. Let's talk about eCommerce growth and driving growth through eCommerce. I can remember many years ago when there was predictions of eCommerce being 50% of all retail sales. And I'm talking 20 years ago, during my time early in the payments industry. And then more recently, people saying if we see a couple percentage points of growth every year, that will be a nice, steady trajectory. I was listening to the eMarketer Podcast over the weekend. And they were talking about a phenomenal growth, as stated in the 360 Digital Commerce, of around 30% year-on-year growth for the first half of this year for US eCommerce growth. And talks of that either continuing, or talks of that possibly declining, but never getting back to the levels it was before. And what was interesting was talking about the brands that have reported incredible eCommerce growth and talking about the brands that are somewhat laggards there. And one consistency I saw were those that were either native eCommerce, or had adopted this many years ago, or had shifted very quickly into different business models, such as curbside pickup, order online, pickup curbside, and the number of different ways that brands that facilitated that. A common thing there would be that natively digital, natively eCommerce were very agile in terms of adopting. So I'd love to use that as the first point to turn over to you. Chad, maybe we'll start with you, given I started with the US. What have you seen from your work with a number of brands be the common factor of those who have really seemed to, have embraced the shift of eCommerce in the last few months, and what have you seen from the laggards that haven't? What's the difference there?
Chad Rubin:
Well, I think category-specific, right, if you're in travel, you're not doing well in COVID, at least, you know, during the pandemic. So I think that's one important piece. I think another important piece is essentially looking at eCommerce like Monopoly. Like wanting to be on every piece of the board to win. So not just embracing just having a Shopify site, but going multichannel into multi marketplaces. So for me, for my own brand, for Think Crucial, before Skubana, we were on Home Depot, we're on Amazon, we're on Walmart. Anywhere where there's eyeballs where I can get wallet share, that's where I wanna be. And I'm seeing that same strategy replicated across brands online. And the second piece I would say is storytelling. Brands that even are selling commoditized, once you attach a story to it and you build community and audience, it changes the narrative and it becomes a moat that's really hard to sort of compete against.
Brad Peterson:
Alright, thank you. Les, what have you seen at Instasmile with the shift of eCommerce? What have you seen that's been working really well? And embracing that, where do you feel that you've still got work to do?
Les Yates:
So I think the, you know, one of the main things that we have seen is that consumer spending hasn't necessarily wavered throughout the pandemic. You know, as Chad alluded to. The verticals and categories in which you spend money has migrated into alternative means, but, you know, consumers through various government incentives still have disposable income to spend. And a lot of that spend, obviously, as we know, has shifted online. I think one of the things that we've seen internally is that need to adapt our business quickly. So if you're a business that suddenly experiences 100% growth month-on-month, you've suddenly got a significant increase in the number of customers coming through and you still have to deliver the best possible customer experience to all of those consumers. And so it's how agile is your internal infrastructure to be able to cope with that? How quickly can you invest and adapt your systems to cope with that? And ultimately over the next six to 12 months, I think the companies that have adapted to that best will be the ones that continue to prosper and continue to grow as a result. And I think one of the things that we are still looking at and working on, I think globally one of the biggest impacts for eCommerce businesses is the supply chain. Not necessarily the manufacturing process, but globally freight around the world has increased in price significantly. And again, the conscious thing is to not try to pass that cost on to consumers. So again, it's how do you adapt your business model to be able to cope with those varying cost lines while still delivering that best in class experience for the customer.
Brad Peterson:
Great. Thank you, Les. Christian, I saved you for last intentionally 'cause I had two conversations this weekend with people that were looking to buy bicycles and I talked to them about Canyon and buying online. And the two people said, "But I need to be able to be fitted for my bicycle. I wanna be able to try it beforehand." And it really got me thinking about, especially for this discussion today. I know from our previous discussion, you've seen a big shift to eCommerce. What do you think has been a shift in the consumer mindset to buying something typically you would need to touch and even fit out to yourself to being happy to buy that online completely? And what do you think has been that shift in the mindset and how have you at Canyon embraced that?
Christian Steyer:
Actually before I came to Canyon, I was also really thinking, how could you buy a bike for three and a half thousand dollars online without even having ridden it or touched it, like you just said. And as we are a direct-to-consumer brand since ever, we didn't need to have any shift from our physical locations to the online environment. So it's a little bit different story than most of our competitors that are actually now on the move to go online. And so we have quite an advantage because we did that since 30 years now, the direct-to-consumer model. So even in Germany, we did it with catalogs. So even when the internet wasn't that big thing, we started with doing it with catalogs and building up a perception on that. So there is a barrier of buying these expensive and especially big goods online, but we have some measures or we have some tools that help the customer to actually oversee that and to really get the bike they need. So our return rates give us, right, that these tools are working because we don't have that high return rates than other online shops actually have. Still it could be lower as always, but, yeah. So there is a lot to do on the website to educate the customer that buying your product online, that there is no risk for it. Also return policies is one part of that. And, yeah, I think we have quite a big advantage on other brands that are now coming online and first need to need to tell their customers that it's a good thing to buy online.
Brad Peterson:
I'd love to unpack the consumer psyche a little bit more. So you said you're using tools to help build confidence. I wanna come back to Chad, to something you said earlier around storytelling in a minute, brand building. But what are you hearing as a resistance point to consumers buying something online? There may be traditional blocks to doing that, whether it's reasonable or not. And then what are those tools? What may be an example of a reason a customer doesn't want to buy a bicycle online? And what are you doing and what can you help our attendees learn? Let us in on some secrets. How do you build confidence to buy things online you may not typically do so?
Christian Steyer:
Actually biggest point that is a big question mark, most of the customers it's the bike size. Is the bike the right fit for me personally? And as we are direct-to-consumer, so we know our customers much better So we gather a lot of data also on the size of our So we gather a lot of data also on the sizes of our customers. So how big they are, what is their inseam length, how is their shoulder width, and all these data so we can adapt our product actually to the needs of our customers, and therefore we have a PPS tool on our website, Perfect Positioning System, and then you enter your data. We help the customer also with content on how to measure these data. And actually usually, like, in really 95% of the purchases, this works. So we find the right size to the specific customer. And, yeah, this is the biggest thing. The second one, of course, it's always in eCommerce. It's service. Where do I get... Who's helping me if I have a problem on the product? How can I bring it to? And we also working on, you know, helping the customers on this issues with local entities in the countries. This also getting back to globalization. If a market has a bigger size for us, then we need a local representation, of course, in this country, because we cannot do that from Germany. But also we try to encourage the local mechanics to also work on our products. And, yeah, we're very helpful if a customer has a problem. Sending them to a bike shop, and then, for example, if he has a bill of a $100 US, we actually then pay them if the fault is on us, of course. So the customer not necessarily needs to send back the product in any case. So these are the biggest two things. So it's size of the bike and how do I get my bike serviced.
Brad Peterson:
And then your tools to really build confidence, which is technology asking for data to personalize, and then post-service, reducing that post-purchase dissonance by offering free returns, the local service, et cetera, helping people through that. Great, that's very useful, thank you. Very helpful. I wanna come back to you, Chad, but I have to go to Les 'cause I have the same sort of thought as people... You talked before about something that's traditionally offline, going to the dentist, and now there's an alternative way and largely doing that online now. That very same question, when you think of what is the hurdles that a consumer needs to jump over in their mind to buying something like this online? And then what tools are you using? Let the audience and I know some secrets that you've developed that you can share with us.
Les Yates:
Sure, yeah. I think, you know, we discussed this quite a lot internally around, you know, trying to convince somebody's traditional consumer behavior to go online and know, certainly in our industry, you know, it's a large ticket value item. The difference between online and offline is simply that offline you can go into a physical location, you can see it, you can touch it. You're speaking to a human, you know that they exist. And the word that comes out of that is credibility, and so that's what we have to do online. We have to be a credible source for somebody to be confident in the knowledge that, okay, I'm going to make this large purchase with this business and I'm confident that the business will deliver on what promises it sells, that outlet to myself. And so that's the key thing that we always have to overcome, is delivering that credibility to the customer. And that's done in a number of different ways for us, but the most powerful way that we can create credibility is user generated content. And a lot of businesses will underestimate the value in user generated content. But for us, it's actually one of the key drivers to help our consumers look at these before and after images of consumers without and with the clip-on veneers and see, well, actually that person is relatable to me and I can see that they're a real human being with their own real reasons why they've gone to Instasmile. And actually through that and through the videos that we use, that gives the customer the confidence that, you know, actually this is a genuine solution for myself. The second part then is the partners that you align with. So, you know, if I take Splitit as an example, where it's say, a credible brand. Aligning yourself to that brand also provides the comfort to the consumer to say, "Well, actually, okay, I believe in the product. Now I also believe that when I made the purchase, it's actually going to be used to deliver my product to me." And so looking at the credibility, looking at the touch points within the customer's journey. Were they creating hesitation? And why does that hesitation exist? And then putting the resolutions in place to remove that hesitation. And again, all comes back down to, at each step of the way, providing credibility to the consumer.
Brad Peterson:
I love it, I love it. Thank you. It's a great segue actually, Chad, to something you brought up earlier related to this around storytelling. I think brand building and the importance of brand building, especially in times of disease in a pandemic, I think what Les was just touching on, very fascinating there around credibility and building trust in your brand. As somebody that supports a number of brands, what have you seen in terms of what works of building a brand in the online environment, especially those that are digitally native and almost only digital in a world where omnichannel, it's taking different forms now. Can you share some secret to what you've seen and maybe some emerging brands or some companies you're supporting of how they've built their brand and address some of the things that Les spoke about?
Chad Rubin:
Yeah, and I think this actually touches on a little bit of what Les said and also Christian, which is they understand their customer more than anybody else, right? They have a technology headstart. And even when it comes to bikes they're teaching their customers something. And when you start to teach your customers something and they can learn from you, there's a paradigm shift that happens. When they learn from you, there is a different relationship that occurs. It's kind of like when a chef launches a recipe book and just shares all his recipes with others. And so I think that's one of the big things is that you're seeing brands starting to teach their customers something that they didn't know before. And that hits on trust. That's comfort as well that it hits on as well. But the audience starts to come to you versus you trying to find customers. And so I think that's a really, really important piece. And if you look at it from Alo Yoga, for example, yoga, they sell yoga apparel. Now they have an app that they've doubled up with. They understand their customers so much that they know what classes to offer to their customers. And they become like the one place, the one-stop shop, the information source. Or, like, you take someone like Brightland, which is olive oil made in San Francisco. And they're teaching you all about your olive oil, why their olive oil is better and why you need to be buying their olive oil, and all the differentiating factors, and then sharing recipes on top of it. So I think that's a really, really important piece, is that shift of becoming that chef, becoming the source of information.
Brad Peterson:
And get very specific, some tips for our audience. Folks that are leading eCommerce businesses are in this space. How can I really get that user generated content, as Les was saying? How do I build that credibility online to teach?
Chad Rubin:
Well, I think, firstly, it comes down to data, right? And we're all sitting as direct consumer brands, you're sitting on so much data, and most of those troves of data aren't even being used. And I know Christian's sitting on tons of data, even Les is, and I'm sure there's lots of data that they're not actually, they haven't uncovered. So I think that's one piece, is like really taking a sense of understanding your data. I know from my own eCommerce business, we started understanding where people were buying and what percentage of our revenue was coming from each state to decide on where we were gonna start positioning our second and third warehouse to shorten our lead time. And certainly since the post office went zonal and you're starting to pay for anything under 13 ounces based on the zone that you're in, we needed to minimize that expense. And so that just came down to really looking at the data itself. But each brand is doing something different, right? Brightland is doing something very different than, say, Instasmile or even Canyon bikes, right? But I still believe the fundamental pillar is building an audience and becoming a platform where people go and search you out versus you going to find a customer. And that comes into just dropping value as often as possible to your user base.
Brad Peterson:
Fantastic. Great. Okay, thank you. Some very useful tools and very some great tips there. I could talk about brand building and storytelling for a long time, but I'm going to move on to another topic for eCommerce mobile, another stat that I saw in digital commerce, and that was talked about in a previous eMarketer podcast as well. Predictions of over 50% of all eCommerce or digital commerce will happen on a phone. And I was surprised it's actually not even there yet. If you look at it from our data, the majority of purchases are initiated and completed on a mobile device. But we have actually seen a shift back towards desktop. So I'd love to hear from you. Maybe we'll start with you, Christian. How important is mobile to your eCommerce or your D2C strategy? And what does it look like in the future? What trends or what shifts are you seeing happen now and do you think you'll see into the future?
Christian Steyer:
Yeah, definitely it's a big thing, of course, but we see the same thing as you just mentioned. So we see most of the traffic is actually from mobile phones. But if it comes to conversion, actually the desktops are performing much, much way, way better. So mobile is actually a good way. And this refers back to trust, and storytelling is a thing where you can tell stories where customers inform their self about the products. But if it actually gets to the transaction, they are more likely to go back to the desktop. Not sure why. We sometimes thought maybe they are just at work, and on the weekend they inform about their bikes and then they on the desktop at work time and buying stuff online. No, but not sure why this happens, but, yeah. Mobile will be a big thing. And with probably upcoming more integration of mobile phones with bikes which is ongoing with different apps you can use around cycling. This will be a really big thing, but not the only thing you should focus on for the upcoming years, I guess. So a tablet and desktops will still be, yeah, a sales channel, or a device that you have an eye on, should have an eye on.
Brad Peterson:
Yes, thanks. Chad, mobile, US or globally, are you seeing something similar to what Christian spoke about or something different?
Chad Rubin:
I mean, I think most eCommerce brands and merchants have experienced the mobile, what do they call it? The mobile moment where over 50% of your revenue is generated from mobile. And I don't know about that if that's actually specific to Christian's business, because it's a very high average order value. But at least from my own business, from seeing our customers on Skubana, there's a few things probably like nuggets I would talk about, which is, one, live chat, being able to be readily available, even if you're on mobile. And then, two, a lot of companies now have been leveraging SMS marketing for win-back campaigns and to essentially even drive more value to your most valuable customers. And that's all happening on your mobile device, right? The SMS piece. So I think you add that, along with, lastly, FAQs that are readily optimized for mobile, and phone numbers where people can just, like, hit a button and just give you a call, especially if you're a high average order value, are key differentiators that a lot of other brands and merchants just aren't doing. You'll blow them away.
Brad Peterson:
Great, thank you. Les, is it different for the veneer business, for Instasmile? How are you seeing mobile evolve over the last couple of years, and more recently during the last few months?
Les Yates:
Yeah, so for ourselves, for a number of years now, over 95% of our traffic will originate from a mobile device. So in terms of the initial research that takes place, it is all driven by a mobile device. We do see a lot of transition across into desktop, and sort of alluding to some of the earlier points around data. It's interesting when we actually look at our data and who has actually been converting onto desktop because it is dictated by age range. So consumers who are maybe a little bit older who have been used to more traditional means of desktop offline-style purchases, they will have more tendency to go across to desktop. But then the younger generation, you know, all they've ever known is mobile, mobile, mobile, mobile purchases. And so they are more confident in, regardless of the ticket value, they are more confident in actually making the purchase. So in terms of what we expect to see over the next probably five, 10, 15 years is that that trend of mobile to desktop conversion will continue to sort of diminish over time, and more and more consumers coming through as the generations come through will be more and more confident in actually placing that purchase on a mobile device.
Brad Peterson:
You said a couple of really interesting things there. I'd like to sort of dive in on a couple just quickly. You all talked about looking at data, cross-platform, and understanding that. If I'm getting started or I'm in a business that doesn't have the data, what should I look to? What should I do in terms of tagging, attributing my data to understand that a customer on a mobile device is converting on the desktop, and then understanding all the things that you just spoke about then? Where should I start? 'Cause we talk to so many brands that said, "We just don't know."
Brad Peterson:
Do you want myself to answer that?
Les Yates:
Yeah, sorry, yes.
Brad Peterson:
And then after that, Chad or Christian, if you wanna jump in as well. But, yeah, you spoke about it, so.
Les Yates:
Yeah, there's two things that I think as a starting point for any business. One, which is obviously Google Analytics is readily available and it will, to some degree, provide you the insights in terms of cross-device behavior. And you can start to see some signals. But the truth is nobody has cracked full 100% device-to-mobile-to-tablet tracking. You know, Google's been trying to do this for a number of years now, and I've seen many iterations of their attempts to do it. The best thing that you can do is look at your data, understand your data, and trying to create the correlations between the behavior. The second piece to lay it on top of that is to simply speak to your customers. The customers will help you to understand their behavioral choices and why they perform actions in a particular way. We regularly survey free one-to-one sessions with our customers or through survey forms around their behavioral choices, and they're more than willing to provide the feedback. And the amount of data that we get back from that is so insightful that, again, it helps us to understand why consumers are making particular decisions, and, again, how then we can improve ourselves as a business to continue to adapt to those changing behavioral habits.
Brad Peterson:
Great. Thank you, I love it. Speak to your customers. The data's in perfect correlation that speak to your customers. Anything to add, Christian, Chad, to that?
Chad Rubin:
No, I think that's-
Christian Steyer:
I think for us-
Chad Rubin:
Go, Christian. Please.
Christian Steyer:
Okay, so I think, for us, the biggest challenge, of course, Google Analytics is the tool to be, but, for example, also it's very important to see how customers behave on the website, so using tools like Hotjar. But then you have also these backend systems with the shop where, like, you have to say as far as environment, we have that SAP environment. Then we have all of the payment providers that also have their insights. Then you have the Instagram and Facebook analytics. So I think the challenge actually is to really condense all the data and really make findings out of it and not only look at one puzzle, one piece of the puzzle and not the whole picture. I think this is still a challenge which is ongoing. And we have a lot of data, but like already previous, you said, it's very hard to have the full picture and not only focus on one tool or one key finding out of it.
Brad Peterson:
Alright, let's shift gears. I'm actually gonna come back to something you all mentioned around frictionless or seamless commerce, and that's a big talking point. But actually a company I'm about to talk about actually talks about this as well. So I'm gonna come back to that at the end and ask you what's your top three tips for our audience in terms of improving conversion through reducing friction. This next topic might be part of that, so let's jump into that, which is global expansion. This can mean so many different things to so many different people so I'm gonna keep it very broad and then ask you to talk about how you think about international, and then we can dive in. But when I talk about global expansion, I mean, everything from shipping goods, selling, accepting orders, and shipping goods to multiple countries, to setting up offices in multiple countries, to the currencies that you accept, how you paid in multiple currencies, et cetera, how do you then deal with regulatory issues, et cetera. There's so many different facets to think about international expansion. And a number of brands we speak to, the answer is it's just too hard. We're just gonna sell just within our country. And we're seeing such an explosion in growth from D2C, or manufacturers wanting to get their brand out there. And there's such an opportunity. Brands are now global. And I look at Nike. Nike have doubled down on saying, "We're gonna go direct to the customer." They're looking at doing this globally. And the impact here, what they need to think about to do this is multifaceted, but it's an example of a brand that was traditionally through different channels, now going more D2C and has always been a global brand, but selling directly to the customer globally presents a number of challenges and they're doubling down on this. We're seeing that the borders around commerce where you start cross-border transactions is just collapsing. So if this is the future, what do we have to think about? And I know each of you have cross-border businesses or support cross-border businesses and international businesses. What did you think about in terms of international? What do you worry about, or what do you see as an opportunity for people out there when it comes to cross-border? Les, should we start with you?
Les Yates:
Sure, yeah. I guess, you know, there's a whole world out there of opportunity, you know. So when a business makes the decision around, okay, we've come to where we want to get to in the country we sell in and now we want to go further afield and expand our business, there's a number of things that I always look at that helps make the decision around ease versus reward. So, you know, if I look at our business, for example, the natural choice, if you look at demand in the market, would be to enter the Chinese market, for example. Huge population, growing affluency, it looks like the right opportunity. However, when you start to dig under and you start use all the business-related data points, how easy is it to get product into the country? How easy is it to set up a company in that country? Are the marketing channels that you currently use applicable in that same country as well? And as you start to create the sort of pros and cons for each country, is that's to help shape where your ease versus reward. China may be a hugely significant market, but then, you know, if we take Germany, for example. Might be a smaller market opportunity on the face of it, but the actual ease of entering into the German market, setting up, getting products in, working on Google, actually means that you can enable yourself to have the rewards from entering the German market as opposed to the China market. And so we always look at a matrix that takes, you know, maybe 50 different data points to create a sort of a weighted ratio calculation that gives us that ease versus reward to help us understand what is the best opportunity to move into.
Brad Peterson:
So I've seen that matrix many, many times. It's multilayered. Well, not your matrix, but I've seen companies with a matrix exactly like that. Ease of entry was just flashing in my mind of the things that we used to look at. Christian, what about you? Your global brand, what dozens of countries that you're supporting. How did you think about entering those countries, and how do you think about supporting those, and maybe which new countries to go to?
Christian Steyer:
Yeah, so as our mission in the industry, is to be the most desirable bike brand in the world, of course, being global and having more and more markets online is on top of our agenda. And basically we had an organic growth. This is why our story is a little bit different here. So starting in Germany, like I said, with the catalog, and then we started to also building the brand and focused very early on bringing this brand to an international audience. For example, with going into pro sports, having our brand visible in television, on Twitter France, and events. And especially in the specific customer group events for mountain bikes, for road bikes, for whatever, and therefore we didn't push our products into the international markets. Actually, there was the demand for having Canyon products in the market, which makes it a little bit easier, so to say, because we didn't have to make ourselves public to our customers. But for a European country, it's quite easy to get to be international because you have the European market with different currencies already and a lot of different languages, so you can consider yourself international even though you are still in the same economic area. It's actually getting interesting if you get outside of this area, for example, the US. We saw the high demand there, and we also knew just shipping a product without any taxes and customs paid upfront and the customer has to do all the declaration wouldn't work in the US. So we saw that as a big demand, and we saw that we need a different approach there. Therefore, the US is actually our only market where we have a complete own entity with a separate web shop and a separate warehouse to really focus on this market. And the growth we had in the last three years, sorry, has shown that this was the right decision. But on the other hand, we have other markets, for example, Israel. So where the Splitit roots come from. We don't have a market manager there, we just ship to Israel. So actually we have a net price shown on our website, in US dollar, even, and then the customers can buy if they want. And if you see the numbers from countries like this, actually they are relevant to us. And if we see it increases, for example, 2 million US dollars a year, then we consider this market as relevant to probably open up a local office. First, it might be a contractual partner, and if the market is even more relevant, then you can also open up an own subsidiary which offers a local service. So in the end, everything is very, how to say that, it's very centric to the German headquarter. So we want to have everything under control from the headquarter, and therefore the infrastructure is also crucial because it could get very hard to manage these. I think we have around 18 offices around the world, otherwise it would get very hard. So, yeah, I could even tell more, but this is a long story short.
Brad Peterson:
Alright, I think I could ask kind of different questions based on three things you've said, but I'd love to hear from Chad as well.
Chad Rubin:
Yeah, so the way that I would look at it is how do you limit hair loss, time, and money spent? And so for me, I'm a huge fan of, like, dipping my toes in the water to see if it's warm. And there's ways now, since it's never been easier to sell international, you don't actually have to create a subsidiary. You don't have to have a footprint with boots on the ground in the actual country itself. It's sort of like digital warfare in a way. And so one of my suggestions is, if you're in the United States, for example, and you're dialed in today, looking into just capturing North America, right? So you're including Canada in that, and then start going East. And one of the ways that you can do that is, I believe is through marketplaces. It allows you to essentially capture an audience and a community using a platform of someone else's understanding the data, understanding how they buy, and then doubling down on that strategy. So, like, for example, if you're moving into Germany from the United States, or you're moving into the UK. Germany is actually Amazon's second biggest marketplace, not the UK and not Canada. And so going into Germany. But then there's other issues that arise from that. So for example, localizing your product detail page into the actual culture that you're selling into. And I think that's probably where people start to get challenged. Or even in the UK, right? If you're manufacturing vacuum cleaner parts, and in America, it's called a vacuum, but in UK, it's called a Hoover. Those types of things are really, really important. And investing in resources and people that are native that can really help you build and tap into that culture, I think is critical. And there's ways, by the way, you can get a 3PL on the international country, or you can even use Amazon's Fulfillment Center and do multichannel fulfillment even if you establish an off-Amazon presence. There's ways that you can do it in a way, that, again, going back to limiting time, money, and hair loss, that can empower you as a brand to succeed internationally.
Brad Peterson:
I love it, I'm gonna embrace... I love the first one, limit hair loss, time, and money. I love it. Les, how many countries is Instasmile in?
Les Yates:
So we have local subsidiaries in four countries in total and we operate a Euro website. But we service, like I mentioned earlier, we've serviced over 100 countries worldwide. So we have this odd mixture between general cross-border and also having local subsidiary operations as well.

Brad Peterson:
Yep. So I'm very familiar with your UK and US site. As one of your close partners, it's something Chad just said and it's gonna, is informing this question. How different are those two businesses when it comes to how you talk to your customers, what you learn from your customers? The content on the site, the user experience, how similar and how different is it? And what should we be looking at as an audience as to where do we lean into the differences versus what do we keep similar?
Les Yates:
Yeah, I think it's an interesting thing. I always use the rule of thumb that it's a 50/50 game going into a new country that is not from, you know, your background. So 50% of activity will simply be the same, i.e., okay, Google is in both UK and USA, so you can use Google in both those countries and they operate in very similar ways. But then you have the other 50% where you are starting to get localized, you are starting to understand the differences and the cultural differences between the countries. And that's where you then start to, as Chad alluded to early on, that's where you start to need to use partners, use agencies who have that localized knowledge to understand, okay, you know, if a consumer behaves this way in the US, how are they going to behave in the UK? And you have to treat them independent of one another. It's not a one size shoe fits all scenario. So if I look at a key difference that we see, particularly between the US and the UK markets, if we talk more about monthly affordability to the US market, we will get a significantly better result than talking about discounts. In the UK, it's the other way around. if we talk more about the discounts that we have on offer, the consumer will react more favorably than all this talk about how much it's going to cost because the UK consumer just wants a deal. That's all they're after. They just want it at the cheapest price possible. The American consumer wants to just make sure that they can afford it on a monthly basis. So sort of dipping, again, as Chad related to earlier, you can dip your toe into the markets by using that 50% reel. But then to really dent or really cement yourself in the market, then you have to go an extra step further and really understand those differences.
Brad Peterson:
Great. Alright, last question before we jump into the Q&A. So think of everything we've just spoken about today. What's your top tips? I love things in threes, so if you've them into three, great. But what are your top tips for the audience to reduce friction at checkout and improve conversion?
Chad Rubin:
I'll jump us off with one. With the first one, I've been sort of geeking out on for quite a bit of time, and that's really speed. So speed is a sort of low hanging fruit of a site. So the speed of your site. And one way you can test the speed of your site is using something like GTmetrix. That's with an X, GTmetrix. And you can take a test your site, and you can see what's loading really slow and, you know, they say these small hinges swing big doors. So you can make small fixes to your site that can A, increase your conversion, but also simultaneously increase your SEO on Google. One of the first things that they look at is the speed of your site. And you can give this to a developer to sort of start minimizing your page speed load time.
Brad Peterson:
Great tip, very actionable. Thank you. Christian.
Christian Steyer:
I'm actually not really into the checkout optimization at Canyon, but in general, I think also when hearing feedback from our customers, it's keeping it as short as possible, but as long as needed, because there's also a lot of operations behind the information you will gather from the customer at the checkout which is actually needed. But it shouldn't be like a 10 step checkout. That is killing conversion. So we try to keep it as short as possible, but as long as needed. That's it from my side,
Brad Peterson:
I love it. There's a few magic quotes I'm taking away from today. That's gonna be one of them. Keep it as short as possible, but as long as needed. We need to go all the way back to the beginning of the webinar to understand why when you were talking about the need to collect all that data for your customers, but I love it. I love it. Thank you. Les?
Les Yates:
Yeah, interestingly enough, my first one that I wrote down in my notes was speed as well. And I completely agree with Chad. It's often the thing that's overlooked significantly by businesses, but it's one of the best wins that you can also achieve in terms of conversion rates uplift. I think, outside of speed, credibility I would come back to again. You're right there. You know, when you start to get into the basket and the checkout, you're at that key pivotal moment whereby somebody is making that decision, do I or don't I? And obviously our role within our businesses is to get them to be convinced that, yes, they need to. And a lot of that comes down to credibility. And then the last piece would be the actual offering and affordability that you provide to the consumer, providing them a way to make the purchase that is suitable to their needs. And again, that comes down to understanding your customer. A younger demographic audience, you know, would like to use somebody like, say, Acclimate, for example. Or some people would consider actually putting it all on the credit card, using just debit and credit cards. So it's, again, it's understanding what those consumers actually want and how they want to make their purchase. And again, that's another way that you can reduce the friction.
Brad Peterson:
Fantastic. Thank you. Okay, we're gonna open it up to Q&A. We have a couple of questions here. I think if you look at the Q&A button, you can type in some questions and we will send them through possibly in the chat. I should know the answer to that, but I'm sure it's one of those that work. I'm pretty sure it's the Q&A button. That's why it's there. I've actually got a question. It's coming possibly through another channel. So I'm gonna read it out directly. Chad, you mentioned Alo Yoga. They launched in an app because they really listening and taking a close look at what matters to their customers. And now they're offering a way for their customers to find classes. So the person said, "I think this is amazing, and I'm surprised that Lululemon Athletica and others aren't doing this yet. The question is, going from retail apparel to online classes or workout guides is a big stretch. How do you make that type of expansion or how do you fragment the things that you work on without sacrificing credibility or brand integrity or focus?" I added the "or focus" part. That wasn't in the question.
Chad Rubin:
Got it. So I don't think it's so far stretched, pun intended, for Alo Yoga to be offering classes. So it's really going after adjacencies, right? Where your customer lives or where your community lives. And so Alo knows that yogis specifically follow instructors. A lot of those instructors are already influencers for Alo Yoga. And so Alo just went to those influencers that already had huge communities where their customers already shop and created a JV opportunity with those teachers to then start teaching on their app, in super high quality, by the way. So they send all their instructors cameras, like, HD cameras, light, light rigs, and they've really empowered those those teachers to drive that audience back. And they're all wearing Alo Yoga clothing. So it becomes a sort of flywheel where they tap into, I would say they probably tap into the wallets of their customers even more frequently because these teachers are getting new merchandise all the time, wearing them on class. And then those people go back into the app and then back into the website and buy it. So it's not such a far, I don't think it's so far removed. And even if you don't have a budget to create your own app, right, or to create classes, you have to start getting strategic in terms of like, where are your customers living? Like, what are they interested in? If you're buying high-end olive oil from Brightland, you're likely interested in recipes. If you're buying bikes from Canyon, for example, it's likely that you're probably an avid biker 'cause you have a high price point. Where are your customers? Who are they following online? If you went to a typical Instagram account of your biggest customer, your biggest ticket customer, or your biggest lifetime value customer, who are they following? What are they into? And wherever they live, you wanna live with them.
Brad Peterson:
Yeah, and brand building again. It's a real common theme. I think even in the last webinar, a lot of the conversation with questions around brand building. A question from Mike Bell. "When expanding to international markets through marketplaces, how do you deal with local laws? How do you deal with local tax laws and filings?"
Les Yates:
I can put this one up if you like. I think, again, I alluded to this earlier on, you know, in terms of partners that you can utilize when moving into sort of international regions. It's physically impossible for us to understand the tax implications, the compliance implications of each country that we operate in. And that's where it becomes important to align yourself to partners and using professional agencies. A lot of the time, people may think that that's really expensive, but actually it can be done very cost-effectively. And as long as you have the baseline knowledge and you have somebody protecting you in that way, then it makes it a lot easier in terms of the entry into international regions. I've done it both. I've entered a market, doing it all in-house, and I've entered markets using third party agencies based in those countries. And probably most of my hair loss came from actually doing it in-house as opposed to actually using third party partners.

Brad Peterson:
I'm speaking while I'm on mute. Thank you, Les. Another question here we have from Katie actually, the Instasmile, so we'll leave this for Chad or for Christian to answer this one 'cause I'm sure you can ask Les at any stage. I love this question. "So looking into your crystal ball, what do you think will be the next step in technology that will make waves in retail?"
Chad Rubin:
That's a really good question. I like to think maybe six months or a year in advance. So I think there's probably two things that I can foresee happening. It's already happening, right? Instagram... Like, I think whoever owns discovery owns checkout. So, like, Shopify is one removed from discovery. And so Instagram, you talk about a frictionless process. Instagram would be a layup to allow people to then find something and buy it on demand and check out through Instagram. And I think that'll be a really powerful force when you're competing against somebody like Amazon or even from like, a lot of the rebels that are using Shopify sites today. So I think that's really interesting. And I would say, my other crystal ball when I'm thinking about this is like, I'm thinking to myself, okay. So Uber or Lyft, they know where the driver is. They also know customer demand because they're actually in the app using the application to order food. One thing that they're missing is like an inventory fee to be able to feed in inventory. And if Instagram could add, or if Uber or Lyft could actually enable you to upload inventory directly to their website, not just big box retail inventory, but like independent merchant inventory into their application, you have just enabled same day shipping within hours that's localized. And I think that is really, really powerful.
Brad Peterson:
Fantastic, I love it. Thank you. Christian, what does your crystal ball say?
Christian Steyer:
I would love to know that actually. So, yeah, it's very hard to predict and there's so much going on in there. There was so many changes when it comes to technology in the last years at Canyon so that I really can't see the next big thing that happens. Actually what I little bit hope is that the whole system landscape gets more integrated and easier to speak to each other because this is one of the big pain points for a lot of companies. So I think that companies that integrate all of these different technologies will be a big thing in the future that can help companies to integrate all of their systems into one... Not one system, but to help them to have one interface with all of the different systems. So this might be a big thing in the future because it's very diverse, the whole system landscape that customers or the big companies have.
Brad Peterson:
Great, thank you. And, Les, we have to hear from you. We all wanna hear your answer, even though Katie may hear it from you every day. But looking into the future what's the technology that's gotta change retail?
Les Yates:
Well, I think it's an interesting one because you also have to consider the high street as well. And, you know, when the pandemic does subside, consumers will, in some form, return to the high street. We're seeing it here in the UK already where stores around the area have opened back up, and, you know, people are going back to the high street albeit online is growing significantly faster year-on-year. I believe over the next six, 12 months, and this is where eCommerce businesses really have to be more innovative in this experience. Where high street stores have failed is trying to keep that traditional experience in a retail store. And if you look at the likes of Amazon at the moment where they're creating that offline grocery score experience, one of the things that I was actually talking to a friend of mine about last week was you have all of these travel agencies now where the high street styles are suffering. But actually if you created a virtual reality experience within the travel agency, connecting to the online journey, how much of an improvement to your conversion rate would actually take place by connecting the two experiences together? I think we'll see a lot of offline and online businesses doing that, but then I think that will also drive innovation from pure online businesses as well.
Brad Peterson:
I love it, I love crystal ball gazing. And this just keeps coming back to the same... These keep coming back to the same theme. We tried to start it off talking about storytelling and we've talked about building credibility. You're talking about experiences. We talked about the importance of personalization, a customized experience. Experience, again. This comes back to brand building, really about focusing on your customer and building experiences to build your brand. I haven't heard anyone talk about hacks or tricks to get extra sales, to get extra eyeballs. This is a real evolution and I really appreciate it, this conversation which is investing in your brand and that means multiple different things versus investing in hacks to maybe to try and get that one extra sale. It's the secret to building long sustainable businesses that customers love and admire. Your three businesses are testament to that. So thank you. We're at time. Les, Chad, Christian, thank you so much for your time. Everybody that joined us, thank you very much. We will put a recording up of this webinar for anybody, so if you wanna tell your friends about it, to listen in. And we look forward to seeing you on the next one. Have a great day and a great week ahead, everybody. Thank you.
Chad Rubibn:
Thank you.
Les Yates:
Thanks, everyone.
Christian Steyer:
Bye.
Written By
Gina Tirelli
Gina Tirelli manages Partner Marketing initiatives at Extensiv, the leading retail inventory and order management software for D2C brands and marketplace sellers looking to unify and automate their multichannel operations. When Gina is not marketing ecommerce software, she likes to spend time outdoors with her dog Elli.