E-commerce Logistics for the Holidays and Beyond - Recording
December 3, 2020
52

min read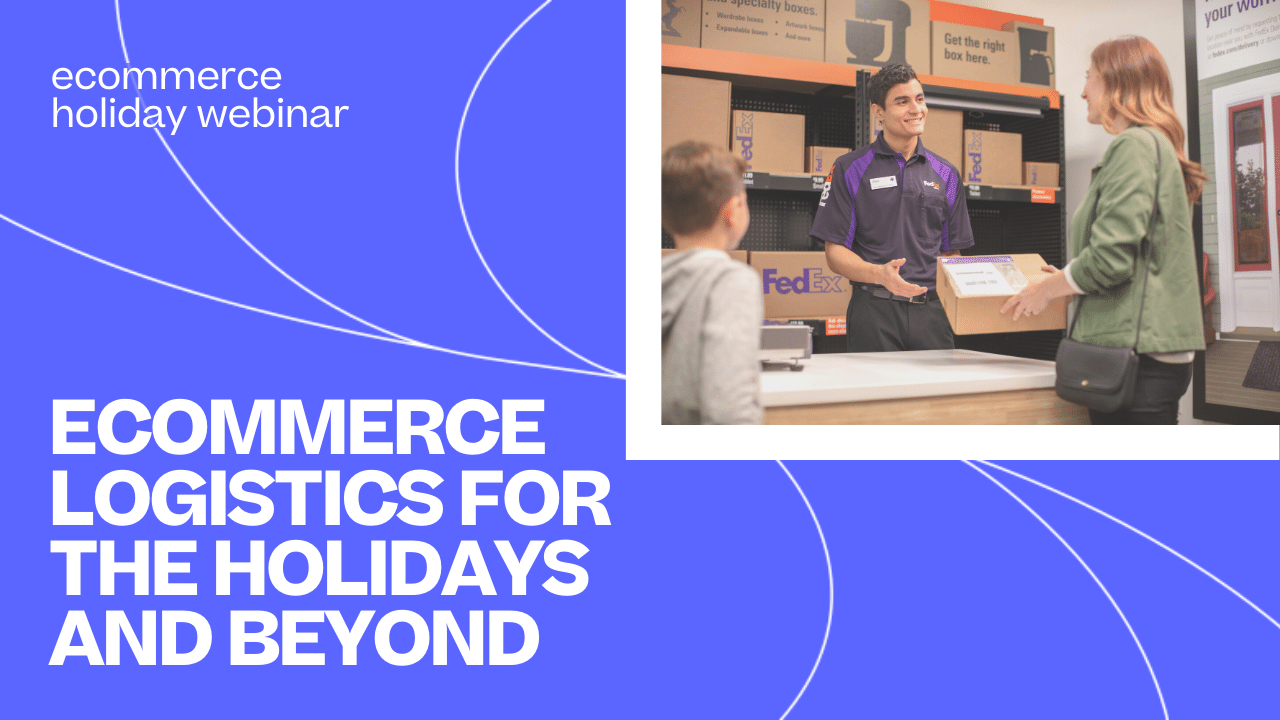 The 2020 Holiday season is already set to be the biggest on record with e-Commerce driving the narrative. With more consumers likely to do most of their holiday shopping online, FedEx is estimating that this will be a holiday peak shipping season like no other. Skubana CEO Chad Rubin will sit down with FedEx VP of Marketing Ryan Kelly to discuss strategies both companies are working to meet customer demands and deliver for people across the country.
You'll Learn How to:
🔍 Improve in-transit visibility for better customer experiences
☠️ Prevent porch piracy
🚚 Leverage affordable shipping options without sacrificing speed or reliability
🛍️ Implement strategies to effectively managing returns
🎁 Tips and tools to help small and medium-sized businesses succeed in 2020 and beyond
Watch the replay right here or read the transcript below: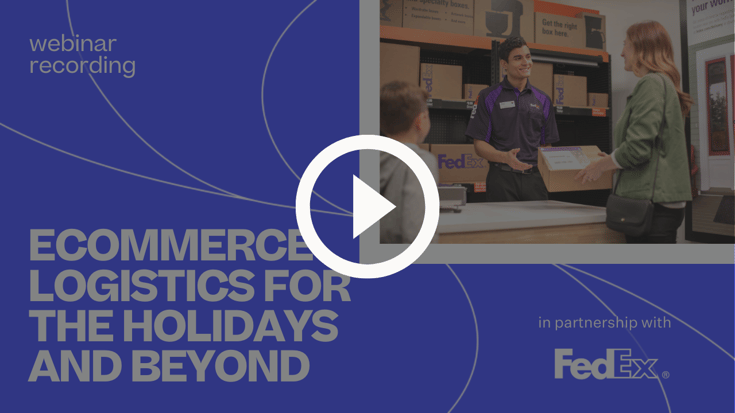 Transcript
Chad Rubin:
Awesome. Thank you everyone for joining today. Today's webinar's really around logistics around the holidays and beyond. I'm feeling really grateful. We've got Ryan from FedEx, joining us. Give everyone a shout Ryan.
Ryan Kelly:
Hello everybody. Thanks for coming.
Chad Rubin:
Yeah, super excited to have you on and to go through kind of what you guys have seen on the FedEx site and go through questions and also making sure that we're addressing other people's questions that come in through the chat. So that's a great segue. If you wanna put in your POV into the chat, please do so don't put your questions there. There's a separate questions tab somewhere on your screen that you can see. There's also polls. We'll be having some poll questions live and... Oh yeah, there's the questions, it's right on your Livestorm dashboard. So that's like really the logistics around this event it's really gonna be informal. It's gonna be fun. And hopefully people have some takeaways and some nuggets they can bring back into their business. I do appreciate everyone taking time after this e-commerce super bowl to spend time with Skubana and with FedEx. And so without further ado, Ryan, why don't you mind sharing just your brief background with the audience?
Ryan Kelly:
Sure, absolutely. Thanks Chad. So I'm Ryan Kelly. I head up global e-commerce for FedEx. I've been with FedEx for 12 years and my focus is mainly e-commerce strategy. The e-commerce ecosystem relationships in the space. And I have kind of an unnatural passion for returns and logistics within the supply chain. So really excited about the conversation today as we're in peak.
Chad Rubin:
Yeah, and I was also very pit, I repeat my interests that you have a CFA in your title, which is interesting. So you bring a very unique background to the crowd. I see you're... were you doing equity research or investment banking?
Ryan Kelly:
I did both. So yes, I'm a finance, an accountant that is now doing marketing which is kind of an interesting thing all in itself. But yes, I do have an investment banking background. And so I have maybe a more analytical approach as we think about the e-commerce space.
Chad Rubin:
That's awesome. I actually used to be on the equity research side myself so very cool to have that in common. So, look it's definitely been crazy. I'm just in shock at what's happened in the e-commerce world and the shift of spending going from offline to online retail. I think the last ad that I recently read was around that 40% of retail right now is online, which blows my mind. And of course since we just experienced the biggest Thanksgiving black Friday, Cyber Monday you must be maybe kind of relieved.
Ryan Kelly:
We might be a little on the busy side, but yeah there's interesting stats, like we have the headline stats and as we kind of dig into what's happening in the space from a lot of different industry partners it's gonna be interesting to see kind of what is actually happening in e-commerce whether you're talking about new people who used to not kind of endeavor in e-commerce if you talk about average order size, if you talk about what people are buying, what they're not buying, I'm gonna geek out. Once I get kind of all the stats aside from just the headlines, 20 plus percent kind of year over year growth, I'm excited to see the segmentation and the data.
Chad Rubin:
And where do you go for that? Where do you go to find that data? Does FedEx have that data? How do you dig into that? 'Cause those are awesome stats to understand.
Ryan Kelly:
They are. It's kind of all over the board. So some of it is FedEx proprietary data. And then of course our friends at Forrester and Gartner, and then some of the other sources that we might have access to. And all of it's not always consistent. And so it's kind of interesting to see as you're kind of digging into it, the different perspectives and who's made assumptions that you might... from our equity research days you kind of punch a hole in that assumption. Like that number doesn't make sense or this is what this number actually represents.
Chad Rubin:
Yeah, I think it's interesting for online retailers. Like they go through the Turkey 5 as they're calling it now, and then they assume that holiday spending is over by you just alluded to earlier that you guys are still insanely busy. Is that correct?
Ryan Kelly:
We've been insanely busy since March. I would say COVID has changed the way of life for everyone and especially how people shop. So we're talking about a peak on top of a peak and we don't talk about, I think you call it the Turkey 5. We talked about Cyber Season at this point. 'Cause more than a month long slog. And one of the phrases we have here at FedEx is everybody needs to shop and ship early, cannot encourage that enough. We have been seeing kind of strong demand since March. It continues to peak, and yes, things are hectic right now.
Chad Rubin:
Yeah, and I think it's so hard for brands and retailers and I'm sure FedEx probably too to figure out like what the next six months will bring. And so how do you resource plan around stats that you've never seen before with unprecedented demand with uncertainty around a vaccine or whether COVID goes away or whether this online shopping behavior continues to stay here?
Ryan Kelly:
Yes, so there's a lot kind of in there. Hey, we're in the process or we're into the process of hiring 70,000 people for peak. So-
Chad Rubin:
Wow.
Ryan Kelly:
Let the magnitude of that number kind of sink in for a minute, that's it. It's not like we haven't been hiring all year long, all through COVID. If anybody's looking for a job and is willing to work hard, go to careers.fedex.com, we are hiring. So let's say that's one piece of the story. We've also been making kind of tremendous capital investment in our network kind of all year long. And we have been for years and then we've been doing things like advancing our networks so that we're actually operating and delivering every single day of the week. A lot of carriers and other competitors don't ship and deliver every single day of the week, but we are doing residential delivery year-round, Saturday and Sunday.
Chad Rubin:
Right. So, I mean this is what average holiday sales increases were like BC, before COVID. And you can see in the following slide like this is at least what those are saying of the kind of growth that we're seeing right now it's back to double digit growth. It's almost like e-commerce just hasn't even hit it's maturation point yet.
Ryan Kelly:
It really hasn't. We had internal workers where we've been kind of projecting what we think e-commerce will do over the coming years. And as you know, kind of e-commerce has been kind of at a mid-teens percentage of total retail sales depending on how you slice and dice the numbers. We think it's either right at that 19 or 20% of total retail sales, only-
Chad Rubin:
Right now, or...
Ryan Kelly:
Yes, yes. Not specifically at peak, but just kind of if you look at the whole year. And so what we think is COVID brought kind of the transition to more e-commerce several percentage points forward. We don't expect it to go down. This is the new normal, and we expect it to only go up from here. And so we've been thinking about kind of total industry package volume. We have been projecting a hundred million packages not just us, the total network or industry. We believe that has been pulled forward by several years at this point.
Chad Rubin:
Hmm, so there are some questions, and again I want this to be interactive. So I wanna make sure that we're getting people's questions answered. Shane writes, "How long does FedEx expect volume caps constrains to last beyond the holidays?" Is there an answer there?
Ryan Kelly:
So, it depends. It absolutely depends. And it kind of gets into the specific merchant or ship that you're talking about, a lot of people like you see these numbers 20% year over year growth. We have shippers that are experiencing 500% growth. And so when you get to 500% growth, thousand percent growth, that impacts the system. And so we have to... you know, one of the ways we make sure we're doing our best is by protecting the network and making sure that we are able to deliver the packages that we say we will. And so making sure that we do have some caps in place, for some of those largest merchants and shippers that might be exceeding any kind of normal growth trajectory.
Chad Rubin:
Yeah, we have a coveted brand who's on our site. They sell bidets of all things, they have actually a really cool and boxing experience actually just got one of their bidets for my new house. I just moved here to Florida for the winter from New York and long story short is they actually with this whole toilet paper run out they ran out of stock and they're on Skubana. So they set up another warehouse shipping from Asia direct like injecting their product directly into United States from their warehouse. And it was a lifesaver during that time. People are doing abnormal things because of the abnormal times that we're living in right now.
Ryan Kelly:
Yes, and if COVID or peak or all of these things have not convinced people to think about, and this is gonna keep me up here, supply chain resiliency. If this hasn't convinced you to have backup plans, selling on multiple channels, selling direct, selling through marketplaces, having alternate fulfillment, shipping from store, having multiple carriers, all of these things kind of are... We're shipping from Asia, who would have thought that that would be normal course business. And so the merchants that are winning are the ones that have planned ahead and have contingency plans and are able to kind of pivot when necessary.
Chad Rubin:
Right, and I think a lot of that comes down to just being nimble and agile. It's hard to like foresee when a black swan event like a pandemic, a viral pandemic that's airborne becomes what it is, and having the right operational software, using the right carriers that can deliver when you need them to and keep going right, for seven days straight all year round is something that you need to have a tremendous amount of foresight to think about when you're running your operations of your business.
Ryan Kelly:
Absolutely. One of the things that we still see is a lot of merchants don't fulfill on weekends. I think we all know that the world operates 24/7. And so for those merchants that are not operating on the weekends, not fulfilling on the weekends, not shipping on the weekends, heads up your competitors are, and so with the kind of increasing expectations about shorter and shorter click to door time, the weekends count.
Chad Rubin:
Yeah, and I think like for the foreseeable future we don't know how long this thing's gonna be here for. And part of me thinking about placing insurance bets, right? Like the fact that I have many warehouses or many footprints around the United States so that I can scatter my inventory depending on if an area is hit by COVID or not is so important, or the same reason why I multichannel as I have an e-commerce business, as well as running Skubana. The reason why we're multi-channel is because you never wanna put all your eggs in one basket. It's always been an insurance hedge to have our own brand elsewhere and also have eyeballs find us no matter where we sell on the internet.
Ryan Kelly:
Absolutely. The few things that have shocked me, I guess the most this year, is people who've had all of their eggs in literally one basket, perhaps one marketplace. And-
Chad Rubin:
And we're not gonna say which one.
Ryan Kelly:
Of course not. But then you're at the whim of that, let's say marketplace's strategy. Sometimes it's aligned with your strategy. Sometimes it's not. And so that's been, you know, it still surprises me that people are single channeled. The other one is during COVID I can't tell you how many times I'd go to a website like, oh, shoot, I need X. Then I go type that website of that product that we all know and love and they don't sell it online. Brands that are all over your house, they don't sell online. They only sell for retail, or they take you to a marketplace where you can buy them. Just shocking for me, how many that still don't sell direct. And the conversations we're having is, hey this was on our digital roadmap couple of years out. We need it now, we need to execute absolutely now.
Chad Rubin:
Yeah, one of the things that a lot of brands saw when COVID first started hitting March, April, May, was obviously the shutdown of Amazon's fulfillment centers. And they had to quickly pivot into being FBM. And I've always said, that Amazon is really just a channel, not a business. And you wanna be everywhere online. You wanna be playing monopoly everywhere. And I think you wanna do the same thing when you're doing your fulfillment strategy too. Would you agree with that? Like having multiple locations for fulfillment, getting closer, maybe to FedEx hubs as part of that strategy?
Ryan Kelly:
Absolutely. It kind of... Again, supply chain geek out here. So many merchants only fulfill out of one location. And generally speaking, that location is on a coast. Despite the fact that you can hit a hundred percent of the US population in three days from Kansas.
Chad Rubin:
Is that true?
Ryan Kelly:
Not many people have fulfillment in Kansas, but that's where you should be, if you were only gonna fulfill out of one location, Kansas or ND, something like that. And so you see, merchants they set up their own fulfillment. It's usually on a coast and the conversations, we've been having are you need a backup option, go ahead and outsource the other coast to a fulfillment provider. It gives you that supply chain resiliency, and if need be you can technically fulfill nationwide out of anywhere. And so just making sure you have a backup choice, at least two facilities is a no-brainer.
Chad Rubin:
Yeah, and just to plot first, Skubana right, Skubana allows you and gives you the agility and allows you to be nimble to actually execute on a multi warehouse footprint and gives you pretty much infrastructure of Amazon without the kind of capital investment that's required. So there were some other questions that came in here. One is specifically around Amazon, does FedEx 3PL logistics provide solutions for Amazon FBA prep and replenishment?
Ryan Kelly:
Can you repeat that, please?
Chad Rubin:
Does FedEx 3PL logistics provide solutions for Amazon FBA prep and replenishment? So for fulfillment by Amazon, like do you guys do the prep, the workflow prep? And that's probably a very specific and granular question that you may not have the answer to right now.
Ryan Kelly:
Yeah, I would say for the vast majority of our 3PL and fulfillment operations were fulfilling direct to consumer versus feeding an FBA facility.
Chad Rubin:
Mm-hmm, mm-hmm. Now in terms of FedEx and having also the FedEx SmartPost option. Do you wanna share what FedEx SmartPost says before we even get into that? Somebody on the call may not know about these different options.
Ryan Kelly:
Yeah, so FedEx SmartPost is a work-share where it's both FedEx and leveraging the US postal service for some of the last mile delivery. That said we're in the process of insourcing that volume. So that it's actually a FedEx experience end to end. That's something we made a commitment to do, because people-
Chad Rubin:
Wow, I didn't know that actually.
Ryan Kelly:
Yeah, so we believe it's very, very important for our brand, and our experience, and our transit to have the best network there is. And so we've actually in-sourced that volume.
Chad Rubin:
Hmm. And would it be a FedEx delivery, truck delivery? Then I know another competitor on the market sometimes uses like a van that's rented and you get like someone that's not in a Brown shirt.
Ryan Kelly:
So generally speaking it depends we have both express and FedEx ground would be delivering, during the holidays and during peak there are times where it would not necessarily be a full branded experience, but it would conform to all of our delivery and service expectations.
Chad Rubin:
Hmm, and Ryan, you had mentioned that you're enabling or empowering brands to go direct to consumer. How is FedEx handling that? How are you supporting those brands along with also marketplace sellers, right, during COVID, during the holiday season and through the cusp of the new year?
Ryan Kelly:
So if I understood your question correctly, so not only do we deliver but we also do fulfillment, multi-channel fulfillment. And so we are delivering all year long, we are fulfilling all year long, and helping our merchants kind of with that experience across all of their channels whatever they might be.
Chad Rubin:
Mm-hmm, now I'm just looking at the stat here that popped up on the screen here, sales for Cyber Week, 2020, 34.4 billion. These are pretty large numbers, I'd say. And I think probably the most interesting one here is that almost 10% of all the new online sales are by people who haven't shopped online before.
Ryan Kelly:
Yeah, absolutely. That kind of goes back to my other comment. When you start to peel back the information about like who's shopping? what are they shopping for? What are they buying? Where are they buying from? Another interesting kind of stat is the number of new brands, and merchants, and retailers, and marketplaces that consumers are trying with some of the limitations that we've had kind of all throughout the COVID experience, experience is a bad way to put it. People have been trying new things. And one of the biggest ways that we encourage smaller merchants that are trying to kind of break in and trying to get consumers to try them for the first time, it's gonna sound kind of crazy. It's the return policy, return policies kind of oftentimes don't sound all that cool. But they actually matter a lot. Some of our stats say that return policy is second only to cost of the product that leads to cart abandonment. And so if you have kind of a liberal return policy, it encourages consumers to take a chance on your brand when they might not have had an experience with you before.
Chad Rubin:
Yeah, but the flip side to that I do think having really easy returns is so important, right. I think at least I started adopting the same policy that Zappos had early on, because I think Tony Hsieh and rest in peace, great book by the way, "Delivering Happiness" for those that are listening to the call, he always was about just making it super easy and accepting returns no matter what. And so I at least on the e-commerce side started offering free shipping free returns, from like 2007 onward, inspired by Zappos. But I do also think the flip side of that is like I just went and shopped on Zappos and I bought 12 pairs of shoes to try on and I'm gonna probably be returning 70 or 80% of those.
Ryan Kelly:
Yeah. So, hey, that's a policy and that's a brand strategy that you've made for your retail store that Zappos has for theirs. It's not necessarily the right thing for every store or merchant.
Chad Rubin:
Totally.
Ryan Kelly:
And I just encourage merchants. Think about your brand. Think about your brand experience. Think about your cost structure, and think about who you're competing with as you set your shipping policies, your return policies and what they look like. I do believe that more and more consumers care about sustainability than ever before and yet they haven't connected the dots with sustainability and e-commerce. And whether you're talking about, the people who on a whim order from the same website every single day versus, hey, I could do one order a week. I really didn't need that spur of the moment shoe rack, it's gonna be delivered to my house and it's gonna wait for four days for me to install it, encouraging people to shop bigger cart sizes, less frequently. That is a trend we have seen which is actually good from a sustainability standpoint. But then also on the return side, you on the shoes don't mean to grill you here. But like if they were to have given better information about the shoes, more pictures, more models wearing them, how they fit, and all of those kinds of things. Do you think you would have ordered less?
Chad Rubin:
Well, you know, it's interesting. I don't wanna get too personal here. I have over overpronation. So I have a flat foot and it's affecting my low back. And so I've been like looking through for the weekend, I have a 15 month old, so I'm like picking him up. I'm playing with him. I just moved into a house. I've got like tons of low back issues. And so I think for me it's finding the right fit, is like finding the right wife. It takes a long time, careful diligence, right? Many dates to find the right one.
Ryan Kelly:
I am not going to quote you on comparing wives and shoes. Not gonna happen.
Chad Rubin:
So, there have been more questions coming in. Some interesting ones here. We're just gonna do a lightning round. First of all, I didn't even know that FedEx acquired ShopRunner. Congratulations.
Ryan Kelly:
Announced it yesterday, has it closed yet, super excited about it.
Chad Rubin:
Wow.
Ryan Kelly:
Yeah. More good stuff to come.
Chad Rubin:
That didn't hit my newsfeed. Can't assess the detail. Okay, I see that in the questions. Your view on what's more important. I have a view here too but the returns policy or having free shipping policy?
Ryan Kelly:
Ooh, so I mentioned the returns is two, it flips between two and three and the other one is free shipping. By the way I get that everybody uses the term free shipping hate the term free shipping. It's not free, it's subsidized and it doesn't sound cool or sexy to say subsidized shipping, but it it reminds people that you are paying for it. It's just how you were paying for it.
Chad Rubin:
You're saying it's in the pricing, in the retail price typically.
Ryan Kelly:
It's in the price. It absolutely is in the price. And so I think you have to think about that. Yes, everybody wants free shipping. And one of the questions that I get a lot is same day, how important is same day and one day shipping and two day shipping? Our research validated over and over and over again is that consumers overwhelmingly want free shipping or subsidized shipping. They expect the free option to get quicker. But the consumer generally speaking, consumer behavior, they're willing to do a lot of things in order to kind of qualify for that subsidize shipping whether it's... I recently, I actually, I bought something on, I guess it was Thanksgiving and they quoted me 10 to 15 days shipping. And I was like, sure, that said, it came before, but consumers are gonna make that choice. Generally speaking, they will opt into longer shipping to get it subsidized.
Chad Rubin:
Yeah, I noticed that I'll get free shipping. It could be 12 days and then you can have a priority option. That's like seven days, but it always comes in that priority timeframe anyway. So I never pay for it.
Ryan Kelly:
Yes, you pay for it just not directly.
Chad Rubin:
Yeah. And from your perspective, how about free two day shipping? And is there a way that you can actually, in your experience have you seen anybody positioning two fulfillment centers across the United States, where they can actually hit two day shipping without paying the two day shipping price tag?
Ryan Kelly:
If I understood your question correctly.
Chad Rubin:
Yeah, I know I mumble a little bit. So bear with me.
Ryan Kelly:
Don't worry. It only takes... a lot of people say like, "Hey how am I ever gonna compete with one day and two day shipping?" I can't replicate a hundred plus fulfillment facilities across the country. That's myth. It only takes two.
Chad Rubin:
So if you were gonna do it, where would you place them?
Ryan Kelly:

Which is where we've placed them, South of ND and Southern California around those two locations is where you wanna be, with a FedEx ground network and FedEx home delivery. You can hit over 90% of the US population in two days from two locations.
Chad Rubin:
I think I'll nag it. I like that.
Ryan Kelly:
Yeah, it does not take a whole lot of facilities to hit two today. If you wanna get... as you add more nodes to that network four nodes gets you over half the country in next day.
Chad Rubin:
Hmm, and so what gets you from two to three? Like the percentage of hitting 90% of the United States with two, how about three warehouses?
Ryan Kelly:
Again, there's some pretty distant places. So you get into the high nineties with the three locations. And even four, the awesome-
Ryan Kelly:
We have an- Yes. We have an airline. We can hit anywhere technically next day if you need to. So, the easy thing is have two nodes and for the 10 ish percent of the US population, by the way that 10% of the US population might not over-index to what you're selling as well. And so it might be a single digit percentage that you need to need to technically upgrade and put it to the air.
Chad Rubin:
And so where would you put that third node to get into the high nineties?
Ryan Kelly:
East, the Northeast So you're talking kind of Eastern PA, New York, Jersey, along those lines. But at that point you're really improving your one day coverage, which is probably the better move, is to improve your one day coverage versus attacking the long tail due date.
Chad Rubin:
Disney just wrote, "Sorry, can you clarify what the three locations should be for two day coverage?"
Ryan Kelly:
If it's one location talk NDs or Kansas, two locations ND and Southern California, three locations, ND, Southern California and call it Eastern Pennsylvania.
Chad Rubin:
Perfect. Got it.
Chad Rubin:
Talisha here wrote, "What is the best way for a new business to offer free shipping?" I think we've covered that. Talked about embedding that-
Ryan Kelly:
Oh, I got an answer on that one.
Chad Rubin:
Oh, go please.
Ryan Kelly:
One thing that has not caught on in, in the US as much as it has outside of the US is delivery to alternative location. So delivering to a commercial address, residential delivery is expensive. And so if you can give your consumers an option to deliver to a commercial address, that's a way to save on shipping costs. We have a solution, we have over 20,000 staffed FedEx locations. When you include FedEx office, Walgreens, and Dollar General. You implement that in your shopping cart where you can have delivery there. Small merchants gonna save about $4 on a residential surcharge, that's real numbers.
Chad Rubin:
All right, wait, back up the truck, pun intended. Hold on one second. So let's just say I'm selling on Shopify, right?
Ryan Kelly:
Yep.
Chad Rubin:
How would I actually offer that as... for a customer to go and for me to deliver that package to that customer at that commercial location, is there a plugin?
Ryan Kelly:
So there are different options and it... you're gonna understand as it depends on how you've structured your supply chain, what platforms you're using, how you manage your shipping. There are third-party applications. You can also do a direct FedEx integration and so that when you are in checkout you can make it where it is delivered. You can do a search and what is the closest FedEx, we call them a hold it location. So what's it closest FedEx hold it location. And it would just be delivered there. And you're gonna save that residential surcharge. It's a no brainer by the way, it's way more sustainable. And for that small business who's struggling to compete with the big guys, it's a great way to save on shipping.
Chad Rubin:
Yeah, it's awesome. And so essentially the savings is for the business and there potentially could be a way to actually offer some sort of discount to ship it to that commercial location too.
Ryan Kelly:
One of the ones that I love or consume, or excuse me, merchants that offer that as the free shipping option. Free shipping to a FedEx location, where you have to... there's some charge to have it shipped to home.
Chad Rubin:
Yeah, that's super awesome. I'm still trying to figure out in my head the plugin that could do this but maybe you can share with me offline how I'll be able to pull that strategy off but that's really great.
Ryan Kelly:
Absolutely. That's a good target.
Chad Rubin:
Okay. A few other questions came in. I wanna make sure everyone's questions get answered here. Rolando Rosales, "Can you provide a contact for your team that does API integration? So we can investigate how to ship commercial alternative addresses." Oh, like we just talked about.
Ryan Kelly:
Yes, is there a way maybe through Gina that we can we can follow up with him?
Chad Rubin:
Yeah, yeah, absolutely. For sure. Happy Returns. There's a question here about the relationship with Happy Returns.
Ryan Kelly:
Yeah, those guys have got a sleek solution. If you've ever kind of used the Happy Returns return process, it's fantastic. You know, package list, printer lists. It's a great option. And recently we expanded or they expanded their footprint. They used to have about 700 ish locations, return bars, they call them, where you can drop off a package. We recently expanded that relationship and now they can drop off at any of the 2000 ish FedEx office locations. So long relationship with the guys at Happy Returns and they have a great solution that also kind of brings in the sustainability piece to the equation.
Chad Rubin:
Then the last one here, and then we'll get back to the Donald programming, "Will FedEx's participation in the vaccine distribution affect e-commerce shipments in your networks?"
Ryan Kelly:
Big picture, no. And part of the reason why is we do have separate networks FedEx express is the airline. And so many of the vaccine shipments and medical and high priority shipments would probably end up going to the FedEx express network. Whereas our FedEx ground and home delivery network is where the preponderance of our e-commerce and residential deliveries happen. So there's a natural bifurcation of the volume and part of the power of why our networks are designed the way they are.
Chad Rubin:
So if you were running an e-commerce business today I just wanna go back to the returns because it seems like that's coming up often in the chat, in the questions, how would you execute a return strategy in today's market?
Ryan Kelly:
I go back to who are you? What is your brand? What is your experience? What is that experience you're trying to have for the consumer? Are you trying to drive to the lowest cost? Kind of just, is it service? What are those things you're trying to do? I do believe it's important to understand your product those shoes that you're gonna return, like 99.9% of those can be resold as new, 'cause they're not used, but think about electronics. Think about if you buy a laptop and then you return it, any chance you're gonna get that laptop back in its box? You know, if you've powered up that laptop and put anything into it, there's gonna be labor required in order to resell that laptop. And it's not gonna be considered new. And so like for technology products, you should have a restocking fee, for shoes you should. And so I think there's understanding kind of your model. If you sell something extremely seasonal, you don't have a very, very long returns window, all of those kinds of things I think you need to think about as you're enabling that process, the other one is, and I feel like I'm going full out sustainability here, but you bought, let's say you bought 10 pairs of shoes. Let's say you're returning seven of them. The box that you got that had 10, is that the box you're gonna send seven in? Yes, most people do. That means you're sending three, the equivalent of three pairs of shoes of emptiness. So, thinking about the packaging you send back it's very, very important. And I think that's part of the power of the Happy Return solution is because, they get shipped back, sent back in a consolidated experience. We also have the same experience in a direct FedEx relationship. So, if you have that giant box and it's all you have for returns, we have over 2000 FedEx office stores and we would love to provide you a box or bag.
Chad Rubin:
Free of charge.
Ryan Kelly:
We're not quite there yet. It depends.
Chad Rubin:
Yeah, it's definitely something to think about, the fact that there's been so much empty wasted space in that box when they ship it back, kind of sad.
Ryan Kelly:
It is. It is sad.
Chad Rubin:
We just had a nice unboxing experience with Arka. They make boxes that you can ship your product in, packages on boxes. And they have a very firm belief on they're certified sustainability, trying to reduce waste. But the thing is that when you receive the package, the consumer doesn't even know how a sustainable package. They don't understand it. There's no like universal symbol that says, "Hey, this package is reducing the carbon footprint. Thanks for participating in this and doing what's best for the country or for the World."
Ryan Kelly:
So one of my predictions is you're gonna see that kind of option in the checkout, in the same way that you're eventually gonna be able to ship to an alternate delivery address. You're gonna see more kind of sustainability centric options in checkout. I know some merchants will say, if you have a multiunit order will you agree to have them kind of paused until all of the products are available and they ship in as few boxes as possible? I know I always pick, ship in as few boxes as possible and I still get multiple boxes. So I'm looking forward to merchants and it's probably quite honestly it's technology to inventory placement. That's the hindrance there. I would love to see more larger packages because they've got everything you've requested.
Chad Rubin:
Yeah, I think it comes down to technology too. 'Cause obviously you see that with a major online retailer giving you that and also incentivizing you with a dollar credit towards your order or a dollar credit towards a future order. I think that you can bring that to the mass small businesses with a plugin. I think that'd be an awesome app. So for those that are looking for the next business idea on this webinar, there you go.
Ryan Kelly:
Yeah, the other cool one, I think, but again a weird one, is let let consumers pick their delivery date. I know there are some marketplaces out there where you pick a certain day where you get stuff. I would love nothing more than to get all of my packages on a certain day of the week. Most things I buy, I don't need that day or in two days. I have no problem saying, "Hey, let my address be Saturday delivery or a Sunday delivery or whatever that thing looks like." The technology is out there. You just don't see it deployed where you pick your delivery date aside from things like restaurants and florist and those kinds of things.
Chad Rubin:
Yeah, I think the reason why those, it needs to be a double pronged approach, the reward has to for the business and for the world, actually three-pronged right, for the world, for the business, but also for the consumer. So if you can incentivize the consumer to pick their own date, then it would make a lot more sense.
Ryan Kelly:
Yes, however, delivering to a commercial address will see kind of high single digit, kind of percentages where the consumer opts in it with no incentive whatsoever.
Chad Rubin:
How?
Ryan Kelly:
They know it's good. It's more convenient for them. I live in Pennsylvania, so we had a foot of snow this week. Don't really want my packages out in the snow. So it's a convenience factor. It's a safety factor, porch piracy unfortunately is a thing. And people do kind of take advantage of packages left outside.
Chad Rubin:
Yeah, for sure. I just recently watched this viral video on YouTube where they set up this device inside of a package and watch people... Did you see this?
Ryan Kelly:
I think I have.
Chad Rubin:
Yeah, it was so funny. But back to your predictions or what you foresee in the future, you had shared some of it, but it sounds like you may have some other predictions. I would love to hear, if you feel comfortable sharing.
Ryan Kelly:
So, I mean, I covered probably most of them, we expect e-commerce to continue to increase as a percentage of total retail sales. We probably expect a leveling out as the impacts of COVID kind of change and hopefully level out and improve. But we don't think people are gonna go backwards. I think you used the stat 90% of people were new to EC. We don't think they're gonna give up on e-commerce delivery. And so we think they're here to stay had a good conversation about buying online pickup in store. And I expect that to continue kind of absolutely. I had a fantastic buy online pickup from store experience and literally pulled up, I didn't have to park like literally just pulled up to the door essentially, hit the I'm here button. It was less than a minute. I think it might've been less than 30 seconds and they actually apologized for taking so long.
Chad Rubin:
Wow.
Ryan Kelly:
So that's huge. And the other one is ship from store. We are seeing more and more merchants kind of lean in to ship from store to the supply chain resiliency piece. If you've had an inventory wherever you have it and you make available, that's part of your fulfillment strategy.
Chad Rubin:
Yeah, one of our mantras at Skubana is not just direct consumer but direct to everywhere. And so we actually tightly integrate with, Vend, Lightspeed, and Shopify's point of sale system, to allow you to actually ship from store, manage your inventory and store, and your fulfillment center simultaneously. So no matter where that shopper's on their journey, and no matter where your inventory is on their journey as well, you can fulfill out of it, manage that inventory. It's pretty amazing.
Ryan Kelly:
It is.
Chad Rubin:
One of the things I'm interested in is what about buying in store and shipping online? I think that's like the zero inventory policy that Bonobos was known for when they were opening up their stores before the Walmart acquisition, but I'm really keen on... like, I just recently it was my wife's birthday and for her birthday I wanted to make her ice cream, and I bought this KitchenAid ice cream mixer and I didn't have the right mixer blade on top, whatever. So I go to Target. They had like 55 different coffee machines and of course, no ice cream maker but I guess that's a long story of saying, I think that the SKU rationalization process in the brick and mortar store is gonna happen as people bounce back into store where they're gonna maybe have good, better, best, on the shelf. And then, maybe if you want one of those items or any additional item outside of that, you can actually pick it out see it in store and then buy it online. Do you see that as a trend that could maybe get mass adoption over time?
Ryan Kelly:
I do. And couple of pieces here. So many brands only carry a limited assortment In retail stores. I'm hearing as much as 90% of their SKUs are only available online on that retailers website. So drop shipping absolutely is going to continue to kind of grow there. It also helps with just leveraging inventory and inventory turns that said, and I'm older than you are, but do you remember Service Merchandise?
Chad Rubin:
No.
Ryan Kelly:
So it was a retailer and a lot of what was in their stores wasn't for sale. You kind of walked around the little tablet, and you wrote down what you wanted to buy and you took it to the checkout. And then they brought it from the back to you. We're talking about a retail concept 30 years ago. And the reality is if they had had kind of e-commerce and residential delivery back then you would still be hearing about Service Merchandise.
Chad Rubin:
Hmm, terrible name. But interesting.
Ryan Kelly:
Yeah, interesting business model before it's time, we'll call it.
Chad Rubin:
And I pulled up this stat here. Small business saw the most growth in this COVID era of 501%. I think that's a fantastic stat where you see people are going to shop smaller. Any insight you wanna share on this one?
Ryan Kelly:
Small businesses are sort of the backbone of all of e-commerce. The next big thing started somewhere. And this is something FedEx believes very, very, very strongly and is supporting small business. So whether you're talking about small business Saturday, talking about our small business grant program, some of the contests that we have run, we go out of our way to support small businesses as they're growing. You know, if you go to fedex.com we have tech chats to help merchants kind of think about best of breed solutions that are recommended not by us, but by others like yourself. So I think all of those things are some of the things that we do, we have a small business center, we have a relationship with e-commerce to help businesses get online that might not have been before. So, I can't say enough about what we do to try to support small businesses. Absolutely not surprised by that growth staff.
Chad Rubin:
Let's take another question came in from Cynthia, "Will FedEx be rolling out broader to ship us their mobile dock visibility?" I don't even know what that means but you may know more about that, mobile dock visibility.
Ryan Kelly:
I don't, I don't. I would to follow up to know exactly what we're talking about there.
Chad Rubin:
Okay. We'll pass on that one. All right. Another interesting stat here, 56% of items were picked up via curbside pickup or expedited shipping. I think we dress that, touched on that during the jam sesh together. What was the most interesting deal that you got when you shopped on? It sounds like you went shopping during Thanksgiving.
Ryan Kelly:
I did. Let me think what I could actually share. So I have a little girl, she's just over two, and she got the most awesome, pink, monster truck you have ever seen in your life. Didn't know they made them, but I'm really excited for her to see her pink, monster truck this year.
Chad Rubin:
Oh, that's awesome. Yeah, my 15 month old is super into trucks right now. So he has this truck book and every time he hears a truck outside he wants to go outside and see the truck. Fun to see.
Ryan Kelly:
Yes. My daughter's name is Kate, trying to get Kate to understand the difference between a FedEx truck, a UPS truck, and the other trucks in the neighborhood has been a fun experience.
Chad Rubin:
Yeah. Well, look I really appreciate you taking the time with us. Is there any last things you wanna share with the audience or anything that you think we forgot to cover?
Ryan Kelly:
Two things. Shop and ship early, that said, early is very, very quickly going away. So there's not a whole lot of time left to make sure that you get those packages delivered before the holidays. So please shop and ship early. It's number one, number two, FedEx Delivery Manager. I don't know about you, but I kind of love to know when things are being delivered, and not just because I'm a FedEx person or FedEx geek. I love to know when things are delivered and as you probably know the last thing you want is a doorbell ring when your daughter or son is sleeping. So I appreciate the notification that says, "A package was just delivered." As opposed to that doorbell ring and FedEx Delivery Manager gives you that visible. It doesn't sit in the snow long. And so I encourage you to sign up and download FedEx Delivery Manager.
Chad Rubin:
Is that free?
Ryan Kelly:
Absolutely.
Chad Rubin:
Cool, and then lastly, where can people find out more about you? Where can they find you if they wanna learn more about some of your predictions or some of your analysis?
Ryan Kelly:
Yeah, so the easiest way to find me because there actually are quite a few Ryan Kelly's amongst the 500,000 of us here at FedEx, is via LinkedIn Ryan P. Kelly. Via LinkedIn is probably the easiest option or rpKelly@fedex.com.
Chad Rubin:
Cool, Gina just dropped that in the chat there for those. And so, Ryan, I wanna just thank you for taking time out of your busy day, specially during this peak season to join us on this webinar, thanks to all those retailers and brands that joined us on this webinar. Hopefully you found this fascinating and enjoy the rest of the day.
Ryan Kelly:
Thanks Chad. Thanks everybody.
Chad Rubin:
Thank you.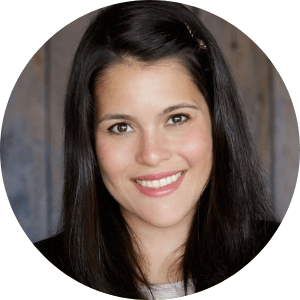 Written By
Gina Tirelli
Gina Tirelli manages Partner Marketing initiatives at Extensiv, the leading retail inventory and order management software for D2C brands and marketplace sellers looking to unify and automate their multichannel operations. When Gina is not marketing ecommerce software, she likes to spend time outdoors with her dog Elli.