Navigating Cross-Border Complexities - Recording
September 2, 2020
74

min read
COVID has accelerated the adoption of ecommerce faster than any period in history. Buying behavior is evolving and consumers are searching beyond borders for innovative products.
To capitalize on this ecommerce boom, retailers need to find paths into new markets. Navigating cross border commerce while maintaining a consistent global customer experience is complex.
Watch the replay right here or read the transcript below: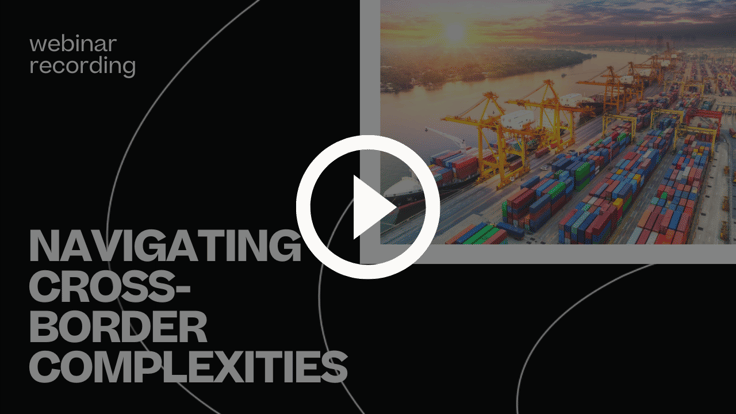 Transcript
Chad Rubin:
And we are live. Hello, everybody. I think there's folks coming into the webinar room. So, welcome. We have a lot to go through today in the hour, the job is to just drop as much knowledge as we possibly can, be as value add as we possibly can so that everyone gets their money's worth in this webinar. We're going to be talking about cross-border complexity, it means a lot to a lot of different people. I think now is an important time to be talking about cross-border complexities, given the environment that we're in, a lot of other countries are opening back up in advance of the United States, and there could be an opportunity to capitalize on that.
Chad Rubin:
But we have a lot to go through today, so I'm going to just flip through the presentation. If you want to just chat in where you're dialing in from, maybe the best meal you've made if you're stuck at home, or if you're going out, what's the best restaurant you've been to, that'd be awesome. I see a New York City just chatted in, fantastic.
Chad Rubin:
We're going to go through today, why should you be doing cross-border right now? Navigating fulfillment complexities, we're going to be talking about conversational commerce and chatting back in the language of where you're selling into. We're going to talk about post-purchase, the impact of post-purchase in the international markets along with payments, which I'm really excited about, and cross-border shipping. Then we'll go into a fast Q&A.
Chad Rubin:
There is going to be a surprise at the end of some different presentations here where people are going to be having offers. So, stay tuned for those offers. Along with that, I'm going to try to pull in somebody from the audience at the end who I have a tremendous amount of respect for, who has been notorious in the international space who I think we'll drop a lot of value. Just stay tuned all the way through the end. I [inaudible 00:01:53] a lot of fun today.
Chad Rubin:
Before we get started, I just want to thank everyone for joining, taking time out of their day, wherever they are to join and certainly to the panelists that are joining us today that are contributing and dropping the kind of value that we all expect from these awesome and premier brands. I'm just going to go ahead and start with Anthony, and we'll go down and just if you can just quickly share your background, why you're here, that'd be great.
Anthony Watson:
Yeah, most definitely, great to meet everybody. I am the Senior Director of Platform Strategy at ShipBob. What that has meant over the last year or so is actually launching our international fulfillment centers with one of our other co-founders. We've recently launched in Ottawa, and in Kilkenny, Ireland to help our customers actually get across the border and start fulfilling products from those home countries. It's been a really fun year. We're excited to share our early learnings here and answer any questions about international fulfillment.
Chad Rubin:
Awesome, Adam.
Adam Gardner:
Yeah. Hi, everybody. My name is Adam gardener. I've been in SAS, and each commerce for the last 10 years, currently handling strategic partnerships for Route. A lot of what's been really exciting is hammering out some of these partnerships with platforms so that we can work on as many of those platforms as possible. We realize there's some localization that goes on there, and excited to essentially make Route available to merchants all over the world and their customers all over the world.
Chad Rubin:
Nicole, you're up.
Nicole Baqai:
Yep. Hi, everyone. I'm Nicole. I'm actually new to the eComm space, but I've been working with a lot of D2C brands over the last year, and I have managed strategic partnerships out of East Coast. I'm like the one man team out in New York. I'm excited to talk to you guys about conversational commerce through your support center and how you can really capitalize on those opportunities across multicultural language barriers.
Chad Rubin:
Bam! Andre?
Andre Storm:
Boom! What's up everybody? My name is Andre Storm. I'm the Director of Sales here at Passport Shipping. We are building the best international shipping carrier for direct consumer brands. I've been involved in eCommerce, the D2C community in the last five or six years. Most of my career has been in fulfillment, actually working at the commerce and fulfillment division of Ingram Micro through acquisition of a company called Shipwire. Many of you guys might be accustomed to and I'm really excited to talk to you guys today about cross-border shipping.
Chad Rubin:
Last but not least, Tony.
Tony Cerbone:
Thanks, Chad. Looking forward to talking to everybody. My name is Tony Cerbone, I am director of customer growth at Currencycloud. We build banking networks around the world, helping clients receive, convert and collect money to make it cheaper and easier for you to expand internationally.
Chad Rubin:
Awesome. We're going to go ahead. If you have questions during the presentation, we want to make sure we get to them and we're answering them in real time on demand. There's a questions tab, throw your questions in the question tab as they come up. Also, if you want to just chat, feel free to chat, we'd love for you to chat us as we're discussing. If we're missing anything, just hit us up.
Chad Rubin:
We also... What's the next slide here? Some other logistics here, poll questions, we'll be having poll questions in advance, there's probably one up because Gina is on it asking people, what are you currently selling in other countries? If you want to just... We want to take a pulse of where people are at that are joining this webinar, that'd be great. It's important to know who's on. If you can just go into the poll tab, answer the question, promise it won't hurt. It looks like a lot of people are focused, at least right now, still seeing a lot of North America coming in, in the mix.
Chad Rubin:
Heavy North America. All right, we'll go back to that. But I guess that's maybe why people are dialed into this presentation. Like I mentioned, there's going to be some special offers throughout the presentation and then I've got a pretty awesome guest individual who'll join us to the end, who I think could be helpful answering any questions that you may have. I'll be moderating. My name is Chad Rubin, co-founder here at Skubana. I've been an eCommerce for a decade, pretty much as old as the first generation Nintendo.
Chad Rubin:
I've been doing it a really long time. But more importantly have been through the problems that everyone else is experiencing. I have a lot of kinship with those that are dialing in, that are going through the same pain that other merchants and brands are going through. Skubana just powers a lot of back end operations for fast growing brands across the internet. Feel free to check us out whenever you want.
Chad Rubin:
All right. My part of the presentation today is really about using infrastructure to power or empower you to accelerate globally. It's all about really the systems that you have and you have to be a systems thinker, especially not only if you're just focusing on domestic market, but as you're focusing on the international market. Essentially, COVID has just accelerated eCommerce not only the United States, it's accelerated actually across the world.
Chad Rubin:
A lot of these countries are reopening faster than the US right now. It's important to see if you can dip your toes in the water to see if it's warm. There's some great stats here to point to, cross-border shopping is 20% roughly of eCommerce in 2022 according to Forrester, but I think a really important one was 25% of third party units sold on Amazon are cross-border sales, and that's not going away anytime soon.
Chad Rubin:
Today, we're going to talk about how you can essentially identify, number one, identify... Uniquely identify where you want to go in eCommerce when you go international because it's not a one size fits all opportunity. For example for me, before Skubana, we manufactured coffee filters and vacuum filters. Well, the vacuums are very different in North America and in Canada, versus in the UK, or in Germany for that matter. For example, a vacuum in UK is called a Hoover. Even though Hoover is a brand here in the United States.
Chad Rubin:
Identifying what is a great market for you, not all products can flow into the US market, it will also be important to flow into the European market or any other market. It's important to just not try to replicate your strategy in the US across other places. What am I... Interesting points that I want to highlight here is essentially looking at your customer base and understanding your demographic of who's buying from you and thinking very critically, okay, is this buyer somewhere else internationally? If they are internationally, sitting somewhere in another seat, buying from home that meet the same demographic that you have, ding ding, it's likely a great opportunity that you can actually capitalize on.
Chad Rubin:
Moving on to the next slide here, I've got here quick, because we only have five minutes and I want to squeeze in as much as I can. I really believe in the strategy of dipping your toes in the water to see if it's warm. I've made the mistake of going all in, building out massive 3PL presences in international markets for it to just fail.
Chad Rubin:
For me, I actually prefer to actually go in with a slightly different strategy. Sometimes finding a 3PL, whether it's ShipBob or another one that could essentially accept maybe high velocity skews that you've analyzed to see if the waters are warm. Another option, by the way, is to use the marketplace strategy. Using marketplace is A, not only as a point of discovery, so you can actually analyze a lot of data on Amazon to figure out what's selling internationally to capitalize on that, but Amazon has built out this logistics network with FBA and using a software like Skubana to essentially grow multi-channel fulfillment from your FBA fulfillment center to your optional customer.
Chad Rubin:
Then, maybe as you start to build up a nice rhythm and a nice cadence with proper fulfillment, or a high velocity fulfillment, getting it into a 3PL and figuring out your return strategy as well. There's a lot of long tail marketplaces to discuss. Again, for example, vacuums, people in Latin America aren't really using vacuum cleaners, but they're using swiffers or sweepers. Figuring out which marketplaces you want to capitalize on with what products. For example, in our app store, we've got Mercado Libre that you can capitalize on if you want to go international.
Chad Rubin:
But again, I think a lot of it comes to figuring out what's being sold across the international marketplaces like Amazon, doing that research. There's a lot of data, there's these data tools that you can use, like Helium 10, or Viral Launch, or some others that you can actually see what the velocity is, what the demand is. The search velocity is to see if you want to capitalize on that demand, because if there's a lot of demand and there's no supply, there's likely an opportunity.
Chad Rubin:
The other thing you want to do, especially as you're selling internationally is that shipping costs get pretty crazy. We'll talk more about that later on in the presentation. But understanding what's your skew profitability, rolled up by all the channels you're selling on, including your shipping costs when you're actually selling internationally because that's going to eat up a lot of your margin. You have to have a real profit mindset in mind in terms of analyzing all the hidden fees that are crossed the marketplaces you're selling on, along with the fees, the cross-border fees around shipping, flowing into Skubana, so you can actually see your profit per skew, per channel.
Chad Rubin:
I know I'm going quick, so, if you have questions, just hit me up either in the chat or you can email me at chad@skubana. The other thing that's important is essentially this is what happened to my eCommerce business, we own the chart trademark of Think Crucial and what happened was that one day we were trying to import a container in from China and somebody was actually sitting and hijacked our trademark.
Chad Rubin:
It's important to actually understand your trademark strategy when you're also internationally because your us trademark actually can't be used or parlayed into other markets. We actually had to actually buy our trademark from that individual that was sitting on it in the international country. Kind of crazy, I know, it's 2020, but that happened.
Chad Rubin:
All right. Then you've also just monitoring what other people are selling internationally, monitoring what's working, and what's not working, even buying from some of your competitors, internationally and seeing how they're fulfilling is really, really important. The other thing I want to point out is a lot of people try to use their fulfillment or their manufacturer to do the fulfillment for you. I want to rethink that situation, because if your vendor is doing the fulfillment for you, a lot of times they can just disintermediate you and go direct to consumer themselves. You don't want to train your competitor to do what you're doing.
Chad Rubin:
You do want to have a strong supplier relationship and you do want to have a nice agreement with them, that's really important. This is a really interesting example, TUSHY, they're on Skubana, customer of ours, they sell bidets. When the TP thing when crazy in United States during the pandemic, bidets were the next big thing, they sold out, and they needed to go directly from China, direct to the United States to bypass the lead time, and we allowed them to do that, we helped them find a warehouse in Asia, set them up literally overnight. They went from Asia direct to the consumer, and they've been doing it ever since.
Chad Rubin:
They've been really happy with the strategy. But it's important to have an agile system to help you do it. Last thing to mention is that the reason why we do these webinars, it's all about the community. It's all about learning from other people who've been there, done that. Dropping a lot of value. Now more than ever, we need connection, and we need help. One way we're doing that is we essentially launched a Slack group for brands built by brands to help brands. If you want to join, hit the link down below, join. We'd love for you to drop some knowledge and share wisdom and learn from others in the group.
Chad Rubin:
That being said, let's move on. We're moving on to Anthony, ShipBob.
Anthony Watson:
Hello, good afternoon. I think it's afternoon now. Chad, you pretty much just took about a one third of my presentation. Maybe we should just hire you to run all of our BD over at ShipBob.
Chad Rubin:
I'm sorry. I drink too much coffee, I'm sorry.
Anthony Watson:
No, that's perfect. But as I said before, I'm the Senior Director of Platform Strategy over at ShipBob. For the last year, that's been building our international fulfillment solution for not only our brands that are in the domestic US, and looking to expand into Canada and Europe, but also brands that are in those hyper local regions looking to have the same level of fulfillment and the vertically integrated software stack we've built that helps our customers actually manage their back end supply chain for everything that happens post sale. We're looking to build that same network internationally as well.
Anthony Watson:
In the next five, which is some tasks trying to cover all of this, because as we learned over the last year, there is a ton of pitfalls, hurdles, but it's also a really exciting space to be in. We're thinking about how do we actually make decision to expand to either Europe, Canada, or worldwide in general? Then some mistakes to avoid that we've seen over the last year. Some quick and easy tips that, hopefully will help guide the process.
Anthony Watson:
Just before we begin, ShipBob has been shipping internationally for about six years, all over the world through our fulfillment centers in the US and in our software integrations into a multitude of different platforms. But the last year is the first time that we've actually experienced launching into new physical facilities and sites.
Anthony Watson:
The last year has been a lot of learning and we've been lucky to have some great brands that actually had some experience doing this before us. Just a caveat, that we're still learning too. Without further ado, how are you thinking about making a decision of going to Europe? We talk to brands on a daily basis that would love to expand into these international markets. But, they don't have any sales there or they're saying they have 100,000 views on their website, and 20% of those are coming from the UK. That question is like, okay, great, if I'm selling 100,000 units a month, that means I should send 10,000 units to the EU.
Anthony Watson:
That's not necessarily the case. As Chad pointed out earlier, there's certain types of products that do well in different cultural regions. We've actually had conversations with cultural consultants because selling into different regions or different countries, there is some nuance to it. As most of the eCommerce companies probably are listening in here, a lot of your products that you're actually growing is based on your ability to market to these departments, right?
Anthony Watson:
If you don't already have sales in international region that you're looking to go into, I guess, how are you thinking about the back end traction that you're getting for your products? Are there a ton of key searches for, as Chad said, there's a vacuum but maybe it's called a Hoover in a different region. How are you actually getting those end customer pieces of feedback?
Anthony Watson:
I think what we suggested at ShipBob to start is, is typically folks that don't have any sales internationally. We tell them like, "Hey, turn on your free shipping. If you're shipping for the domestic US, turn on free international shipping, and take a hit for a month and see how many orders you can get for how many skews that you have in your entire portfolio." Usually keep it lean to 10, 20 key products that you want to actually ship out. But get some traction first and see what sells and offer the same level of service that you would whether it be an expedited ship option, or a free shipping option that might take a week or 10 days to get there, and see if you get traction in these countries.
Anthony Watson:
Going from us to Canada is a little bit more simpler, obviously, because, you're not having to travel over the Atlantic or the opposite direction, you get into Southeast Asia or China to actually ship into. A lot of our customers have been getting more traction actually, in Canada to start. The second one, and it seems really obvious, but we have a lot of brands that haven't done the due diligence on actually, figuring out if their products can legally be sold there.
Anthony Watson:
There's a binary aspect to it. CBD in Canada, there's only a certain amount of distributors that are actually legally allowed to distribute CBD. But in Europe, there's... In the EU specifically, there's I think 26 countries that allow it under a certain threshold but there's two countries that don't allow it at all. There's a lot of nuance to figure out before actually shipping to these countries. That's specifically pertaining to the consumables, health foods, products like CBD, anything that needs to get ingested, health foods.
Anthony Watson:
If you're going into Canada, Health Canada is very strict on snake oil salespeople. They have a lot of regulations around labeling and new product development in this region. It seems obvious, but figure out the due diligence, can I ship my product there? Then when you're thinking about cost, when you're actually shipping into these foreign regions, sometimes the local cost of doing business is actually more expensive than the US and the economies of scale of either your partner or the products that you're manufacturing from, you actually might be spending more to ship local. You have to have this cost benefit analysis of what's most important to these end customers in these regions. Is it transportation time? Is it free shipping? Is it cost? How do I optimize for, at the end of the day, converting more at checkout?
Anthony Watson:
You have to have a conversation of are we willing to eat a little bit more on the shipping side to provide a delivery service that's just excellent? Or, do I find a local partner in this region, someone who just has fulfillment in Canada, who's been doing business for 20, 30 years, who might have deep relationships and really great costs with the carriers? Do I find a partner like that, so I can make sure that I'd optimized for my bottom end costs to actually convert there?
Chad Rubin:
Anthony, do you recommend that folks should actually ship directly from the US abroad, or do you recommend actually establishing a footprint? What will flip the switch either way?
Anthony Watson:
I think our most successful brands have shipped from the US first, and this is a small sample size of folks that are uS brands, typically. The folks that have shipped from the US for about three to six months, gotten to the point where they're doing, 50, 100 orders a month, and the real thing that's holding them back, they're having some cart abandonment because of the cost of shipping get checkout, or the fact that they're not going to a dot ca website or all these local conversion points for actually making the end sale. Then they're saying, "Okay, well, there's an opportunity here. I have some traction, some early traction, now it's optimizing, doing some A/B testing on our marketing campaigns, optimizing our checkout for what's the sweet spot for actually converting our cart size into free shipping, and so on and so forth?
Anthony Watson:
I would say that ship first from the US, and as I said, maybe offer a free expedited option where you're actually paying a premium. But it's a marketing expense in that regard. You're seeing how many customers you can get by delivering the service that you would, if you had the economies of scale of having thousands of orders already. Does that answer your question?
Chad Rubin:
Yeah, I was just on mute. Absolutely great.
Anthony Watson:
Perfect. As we said before, when you're thinking about your product category, for example, we had a really large supplement brand in the US that was shipping in the US and Canada and Central America. They were completely verified, all the testing you can possibly do. But for some reason, there's an entire different, three letter acronym named agency in the UK, where they sent 20,000 units and then it took another eight weeks before they can actually get verified to ship those products out.
Anthony Watson:
When you're thinking about the product categories, if you're sending anything with lithium ion batteries, if it's a consumer electronic, if you have a consumable, if you have any sort of... CBD is always a big one. If you have any of these types of products, where you needed to get any FDA license or hazard dangerous clearance document in the US, you almost certainly will have to in Europe and Canada specifically and worldwide.
Anthony Watson:
It just takes a little bit of due diligence, and I would say if you're selling t-shirts, apparel, the whole nine of accessories, consumer goods that aren't consumables, you should be all right. But when you start to get into the health and beauty space, cosmetics, things like that, as well as consumables, it can get a little hairy. We suggest, we work with some really great partners that help us actually navigate the Health Canada and also the EU regulatory landscape and working with a freight importer and customs broker and things like that, which is very different than a fulfillment partner. We highly suggest because they'll figure out how to, which gets us into our next point, actually navigate the cross-border taxes, tariffs, import fees, duties, et cetera.
Anthony Watson:
I know I'm actually zipping through for five minutes. I knew this was going to be tough, but essentially what we want to show this doc is that there are so many different things to consider when actually becoming a non-resident importer, both into... This is specifically for Canada, but working with a freight partner, to actually get you through customs and working with a broker to clear that is, I highly suggest that you get a great partner that will help you do that.
Anthony Watson:
Using your vendor on the manufacturing side to do that can work, if you trust them and have a deep relationship. The last thing you want is $100,000 worth of products stuck in customs for weeks on end when you should be selling that inventory. I think Nick is on this call as well and my email is anthony@shipbob.com. I'm sure there'll be a ton of questions that pop up. But, happy to go in detail. We have four or five calls a day with clients asking about international side of their fulfillment. Happy to talk to anybody about cross-border fulfillment and how you're thinking about this problem moving forward. We'd love to have those conversations.
Anthony Watson:
Here's a quick map of where ShipBob is the US currently. Obviously, our recent expansion to Ottawa and Kilkenny are on there as well. But if you see we have nationwide coverage with two sister facilities in Chicago and Dallas and then border-to-border coverage from a fulfillment perspective. I think we'll have a link after this in email to talk to a ShipBob representative or myself or Nick, but happy to have an in depth conversation about fulfillment with anybody on today. Thank you.
Chad Rubin:
Awesome. We're moving on here. We're going into Gorgias.
Nicole Baqai:
Awesome. Hi, everyone. I'm Nicole, as I mentioned before, and we work with Magento, Shopify, and recently just became a BigCommerce partner this week. So, super excited. I'm going to talk to you guys about conversational commerce and how you can navigate that through your support team. I know we talked about the COVID-19 effect and how that really impacted different businesses. But I also think that one thing to be aware of, especially as you're getting international customers, is what this means for your support team? While maybe sales were up, the tickets created by channel actually increased almost 2X to 3X, but your support team was actually staying the same.
Nicole Baqai:
When you're getting these different customers across-borders, it's also good to note that they don't always... The most common language is English, but there might also be room for you to integrate different languages. Gorgias, specifically, we actually can identify about 54 different languages. When someone's writing in support, that's actually a really great opportunity to capitalize on that customer to make sure that you're speaking in their language, making sure that you're aware of who your customer base is, especially during this time where we are seeing sales across so many different channels.
Nicole Baqai:
One thing that we also notice is a lot of the consumer messaging has changed. Specifically, for typical brands like Theragun, that were known for being, group workouts outside, in the gym. Now, because that's all changed, they really change their language to be more aligned with the consumer. Making sure that that's aligned so that when people write in across different countries, you're very aware of how they've been impacted, but also that the messaging is on point and that you're capturing that audience. Because I think, we always talk about turning your support team into a sales team, because those are the ones that are dealing with your customers firsthand. To really stay aligned with that kind of messaging, depending on what your customers needs are, especially throughout this really crazy period.
Nicole Baqai:
A little bit back to Gorgias. All your support in one place. As I mentioned, we can identify 54 languages. One thing that's really amazing about our product is that we've built our own machine learning database. Rather than you having to respond multiple different times in multiple different languages, you can actually create macros and pre-canned responses, so that you can respond with a specific team mate who's actually speaking that language and assign them that workflow, but you can also create automations around that so that you're driving efficiencies while also managing your support at the same time.
Nicole Baqai:
You can create multiple Shopify stores in our platform. So, any different languages or any different stores, and then you can also pull in relevant customer data. You're actually going to understand where they're shipping to, and what kind of a customer this is, how you should be speaking with them, to really get a holistic view of your customer, and make sure that you're creating different views allowing your support team to optimize on those different customers that are coming in internationally, to really optimize their support, but also drive efficiencies.
Nicole Baqai:
What we found, especially with support, if you're not already doing chat, or SMS, or any type of email automation that allows you to respond in less than 10 minutes, we actually found that the conversion rate is 28%. Making sure that you're implementing these different work streams across different channels. That includes email, chat, Facebook, Instagram, SMS, and phone calls. If you respond to those within 10 minutes, we did a study to show that 28% was the conversion rate.
Nicole Baqai:
For the impact From sales, we saw this directly impacted. Making sure that one, you have those languages aligned and then two, making sure that you're really responding efficiently. We found that out of 500 tickets, almost 50% converted. That's an additional $22,000 of sales, if you respond in less than two minutes and eight seconds. Having those languages pre-organized is really helpful and can already show how that affects your bottom line as well.
Nicole Baqai:
Omni-channel approach, that's something I just discussed about having your chat, email, Facebook and Instagram all in one place. I think that we're seeing a lot of support coming through Messenger and SMS, and all over and having those different workflows are really good opportunities for you to target new customers so that you're not missing out on those support opportunities and that people are coming in from all different backgrounds and having those readily available to respond and pull up their Shopify information from Instagram is really helpful for your customer support team so that they're not responding and double allocating time across Instagram or Facebook, as well as email. We can actually now identify if the email and phone number is associated with them that they're your target audience.
Nicole Baqai:
Just to recap, we are 3500 brands, we actually are going to 4000 customers pretty soon here, which is really exciting. We help you manage all your customer support in one place. So, Facebook, Messenger, Instagram, email, chat, all the items I discussed to really automate those responses, pull in those macros and variables so that you can drive that foot traffic right away without having someone wait for those customer service requests. I know if I'm coming to a page and I'm writing in, I want a response right then and right now, and you want that customer service firsthand.
Nicole Baqai:
If I get bad customer service, I probably won't continue to purchase from you. To really activate across multiple channels, definitely make sense. Also, automate where possible, especially now that you're getting so many sales. Those, where is my order questions, those recurring, repetitive questions that you can automate with your work stream, definitely use that so that you can prioritize those really higher, more urgent items so that you can be as efficient as possible and allow your team to focus on upselling. That's all I got.
Chad Rubin:
Thanks, Nicole.
Nicole Baqai:
Two months free as well. If you email me, just let me know, and we're happy to set you up there.
Chad Rubin:
Awesome. There was a question that came in from Leo, "Using Gorgias, reply in Spanish in US using Google Translate. By the way, we're using Gorgias, why not add Google Translate inside your service? What's up?"
Nicole Baqai:
Yeah, we're definitely trying to integrate as much as we can. Of course, our team is getting asked for integrations on a daily. Right now, depending on there's so many different French variables like Canadian French, French French from France. To have those be just one specific translator might not be the same for every single customer. We recommend that you copy and paste that macro over Translate of how you would respond to that specific customer so that we're not creating one language across all because there are some variables between different language and dialects.
Chad Rubin:
How do you make sure, if you're responding to a customer in their own language and you made a real bad translation using Google, is there any way... Do you suggest that they get their strips checked before sending those back to the customer?
Nicole Baqai:
100%. We have a Spanish speaking team or a French speaking team. If you're not already hired that person, then I would definitely recommend that you try and get as much resource as possible. The last thing you want is to lose out on a sale where you're not 100% accurate.
Chad Rubin:
Do you integrate with WooCommerce or is it just Magento?
Nicole Baqai:
We do not integrate with WooCommerce, and that is not on the roadmap for right now. But BigCommerce, Magento and Shopify.
Chad Rubin:
Great. Just last question for you because you are the customer success expert, what is the best CS experience you've had online?
Nicole Baqai:
Oh my gosh. I always talk about Apple because I think that they've just been such a key person in the last however many years in retail and now they've really brought that online. I always tell people, definitely check out what Apple is doing. Obviously, we cannot be all like them, but you know what you're paying a higher premium for. I always know I'm going to get things answered right away.
Nicole Baqai:
The other thing is, I would encourage you to message your competitors, see what their response times are, see what they're doing to understand and benchmark what you can do better. Honestly, for me, I think Postmates refunds me right away when I don't get a good food experience and I love that. They don't ask questions and I think that really makes a difference and I know I'll continue ordering.
Chad Rubin:
Awesome. Then Diana asked you, do order changes flow into Skubana from Gorgias? Diana, you need to actually start pushing Gorgias on this because there's multiple people that want this integration between Skubana and Gorgias. Just keep on yelling from the rooftops, hopefully they'll make that integration happen and put it in our app store.
Nicole Baqai:
Yeah, we also have a product map. We really welcome those kind of requests. Because the more requests we get, the more I can push on engineering and be like, "Hey, look how many requests of this we have." Definitely would recommend you to check that out.
Chad Rubin:
All right, last question here, we're going to move on. Adria, hopefully I pronounced it correctly. "Do you suggest responding in English and the user's native language when using translators such as Google Translate?"
Nicole Baqai:
Sorry, is that asking if they should respond in the same language that the person is from or that they're asking it from?
Chad Rubin:
I'm assuming... I don't know. [inaudible 00:34:29] in the chat, and maybe you'll monitor the chat, make sure-
Nicole Baqai:
Okay, I can respond right there. Yeah, for sure-
Chad Rubin:
All right, boom!
Nicole Baqai:
Clarification.
Chad Rubin:
Thank you so much, Nicole.
Nicole Baqai:
Thank you.
Adam Gardner:
Yeah. Hey, everybody. Oh, good. I unmuted myself. I had to make sure I didn't make that mistake. Yeah, excited to jump in here. I'll dive in a little bit to Route does, but just know that we are entirely focused on a suite of solutions for the post-purchase experience, and for everything that goes on after a customer actually makes that purchase and how they can be taken care of after the fact.
Adam Gardner:
Initially, I want to give a little bit of context to what that means. Historically, brands have spent billions of dollars every year to optimize the customer journey. We can break down the customer journey into post-purchase, point of purchase... Excuse me, pre-purchase, point of purchase and post-purchase. But if we look at where all those billions of dollars are spent, it's really spent to help folks discover a product and then successfully make a purchase. We certainly give lip service, we spend a little bit on customer retention, and obviously the folks at Gorgias have talked a lot about how we can do that in communications. But it doesn't get nearly the same amount of effort and focus that we spend on pre-purchase and point of purchase.
Adam Gardner:
But ultimately, now, where that shifted is that post-purchase experience is something that merchants have to take control of. I'll touch on it in detail here in a minute, but there is a juggernaut in a space that has elevated that level of expectation for customers by controlling that post-purchase experience to a point that customers put a lot of weight. In fact, the most emphasis on what happens in shipping and delivery as a key factor in whether or not they're actually going to come back and purchase with you again.
Adam Gardner:
As we look at expanding brands to be selling internationally, as look at all the other complexities that are going on there, as we select partners to be able to deliver those, brands have to have some control and some ownership so that you're not turning off your customer journey from the time that a customer makes the purchase, only to be able to pick it up again, one to 14 days later, when the customer then receives their package. It's a key part of the journey that we have to take control over.
Adam Gardner:
The reason this became an issue is because of Amazon. Amazon decided a few years ago, they weren't going to surrender that experience to a delivery company anymore, they were going to do it themselves so that they could maintain that customer journey consistently all the way from product discovery, through to delivery and through to actually experiencing that product.
Adam Gardner:
That's good and fine for Amazon but it's elevated the customer's expectation. Just this week, I had to replace and return an order from Amazon, and it was stupidly easy. It was like three taps on the app to go pick the item that was wrong, explain what was wrong with it, and I was given a resolution in a few seconds. As consumers have experienced that with Amazon, we now expect that to be table stakes for every other brand, and consumers don't care if you just opened shop yesterday or if you have the money that Amazon has, they want that ease of treatment, they want... Just like we shared, they want the Postmates experience, no questions asked, refund my order, it was a bad experience, just because I told you so.
Adam Gardner:
But obviously, not everybody has the resources and spend the way Amazon spends. That's really where we come in. I want to quantify what this means that we're not just making this up, we're not just pulling this out of thin air or trying to magnify something that's not that big of a deal because it is. If we look at the impact of doing this poorly, if a delivery goes wrong, 84% of customers will not return to went online store after a bad delivery experience.
Adam Gardner:
That's crazy. That's not logical, because the brand isn't the one that failed the delivery, it's the delivery company that I partnered with. But in the consumer's mind, that delivery experience is so important, 84% of them won't come back if something goes wrong in delivery. Even greater than that, 94% of consumers blame the retailer after a delivery goes poorly.
Adam Gardner:
We don't have the luxury as brands to separate ourselves from delivery anymore. It's part of the experience that customers are weighing on. But it's not all bad news. There's actually huge rewards for doing this right on the flip side of it. If you can get it right, 74% of consumers report the delivery is the most important part of the overall shopping experience.
Adam Gardner:
Again, as we think back to the customer journey, we've spent billions of dollars optimizing a customer journey so that they make a purchase. But as far as the customer sees it, what I really care about is what happens after you spent all those billions of dollars to get me to make a purchase, and whether or not you've got it in my hands in a satisfactory way. But even more significant than that, 87% of shoppers are more likely to be loyal to a brand that reimburses them for a lost, stolen or a damaged package.
Adam Gardner:
What I think is so significant about that is this is an interaction that's starting from a really negative outcome, we're starting with the customer reaching out because the package was lost, damaged or stolen. That's not a happy customer. But if all you have to do is reimburse or replace it, in 87% of the people that had that situation will be more loyal to you, this is a huge stage in that customer journey where there's big opportunity to win loyalty and when customers for a very long time to keep coming back to you. I think, again, that's why it was shared great examples with Apple, great examples with Amazon, like I just shared, and great examples with Postmates.
Adam Gardner:
ECommerce is obviously blown up. Here we are, fast forward 10 years down the projections of where we expected to be in 2020 and volume's way up, but it's not getting any easier. Damaged packages are up as carriers have tried to juggle the influx of packages to get them there. Stolen packages are way up. Numbers are even higher now, 131% higher than they were over the holidays, which is insane. Stolen packages and porch pirates is no longer just a holiday headline, it's year round.
Adam Gardner:
But I think most significant is that the 205% increase in tracked packages, that even if nothing's going wrong, this is a brand's audition for future purchases because all of those consumer eyeballs are on the tracking experience. They're waiting for more, they want to know what's coming, and it's putting even more emphasis and more pressure on that post-purchase experience such that brands have to get it right if they hope to have any kind of experience with a repurchase and maintaining relationship with that customer.
Adam Gardner:
Ultimately, our recommendation is of course, our own solution, the Route solution. In short, we'd love to have a more detailed conversation with you and your business, but here's the two minute overview, I guess one minute overview, is Route is totally free to merchants, we have developed an amazing business model that costs our merchants nothing to partner with us. We have apps on Magento, Shopify, WooCommerce, and BigCommerce so that you can integrate into your checkout process to offer customers the chance to add additional protection to their order.
Adam Gardner:
Now, it is customer funded. The customer would pay an additional 98 cents any orders less than 100 bucks, or typically about 2% of the cart total, if it's over 100 bucks. They choose if they want to add that to the order with one click. It's a very similar experience to the split payment apps that so many of you use. But in this case, it's one click, there's no account to create, there's no approval process, they just turn it on, and they add that amount to their order. So that if it's lost, damaged or stolen, it'll be protected.
Adam Gardner:
We have an amazing tracking solution that will track all of their orders in one place, regardless of where they bought it from and regardless of who's delivering it, so that they can get push notifications all along the way, very similar to what we get with Amazon, so that they don't have to worry about saving a tracking number and opening an email and voluntarily going to look for it. Like Gorgias highlighted, coming to your chat, to try to ask where's my stuff and then doing that on three other communication channels to try to ask where's my order? We can keep them updated with push notifications the whole way.
Adam Gardner:
If the worst should happen and it's lost, damaged or stolen, the customer can self-report with three taps on their phone and within 24 hours, Route will purchase a replacement for them from your store at full price to be sent back to them or we will refund them out of our own account. The customer gets a solution within three taps in a day, and the brand gets to experience the second sale instead of writing off free inventory you had to give away to make them happy.
Adam Gardner:
Then lastly, through this whole process, we've created a revolutionary form of engagement where these very anxious eyeballs looking for their stuff, now have a co-branded channel to be able to see your brand, know where their stuff is, be told all along the way when it's coming to them so that as soon as something goes wrong, they've got amazing self-service tools to be able to resolve it and ultimately create deeper relationships with your brand, come back, discover more products and repurchase.
Adam Gardner:
We have an awesome promotion. Like I said, we're already free, we're always free. That part's not a short term promotion. But if you head to route.com/100, you can try it out, we'll give you $100 gift card for trying it out. You can always reach out to me, Adam@route.com.
Chad Rubin:
Thanks, Adam, and I'll be signing up for that link after the webinar. Appreciate it. All right, Andre, you're up.
Andre Storm:
All right, thank you so much. Thanks, everybody that's presented thus far. My name is Andre Storm. I'm the Director of Sales here at Passport Shipping. We're building the best international cross-border shipping company for direct to consumer brands. First, just want to say thanks to Chad and Gina and the whole Skubana team for putting this all together. It's been a great experience, and honor to be here and thanks to all the attendees. Hope you guys are all getting some value out of the conversations today.
Andre Storm:
I'm here to talk to you a little bit about cross-border shipping, we've touched on it a little bit up to this point through the ShipBob conversations and things of that nature. I think I'd like to start with a little bit of story time. I did use to work in the fulfillment world, and I, like many brands that I've spoken to over the last few years have really put international at a very distant second to domestic, and there is good reason for it, right?
Andre Storm:
It's typically less volume, higher complexity. I think that culmination really makes it not high on the initiatives list for a lot of brands. What we're really trying to do is we're really trying to change that, we're trying to change that mindset. I think, when you look at a lot of brands today, they have international open, they have cross-border open, typically because some customers on their social media or whatever it may be, the brand doesn't want to tell the customer no, so they open something up, but it's not a major part of their strategy.
Andre Storm:
Usually, it can be tied to bad past experiences or unfamiliarity with the actual process. I'm going to talk a little bit today about how we're helping brands do that. But just hopefully give you guys some insight into some areas to think about. The way Passport thinks of this is there's three main pillars, and each of them I can talk 20 minutes on, so I'm going to try to keep it very, very short and sweet. The first one is obviously the logistics, getting things from point A to point B.
Andre Storm:
Cross-border shipping is very interesting, because it's not always point A to point B, it's like point A to point A1, to point A2. There's a little bit more steps. As a customer, seeing the package go through that journey, they really want to be involved, and they really want to have a lot of insight into what's actually happening.
Andre Storm:
It's very interesting from what I've learned over the past few years. It's not always the amount of time it takes and that is high on some people's lists. It's them being involved. I want to mirror a lot what Adam had just mentioned, them really understanding where in the lifecycle that package is, and knowing that it's on the way. Typically, when there's a gap that's when anxiety goes up and all that. We're trying to help combat that.
Andre Storm:
I won't spend too much time on this. But again, Mary [Woodrow 00:46:07] said post-purchase is so Paramount, it's imperative to really get right. With cross-border shipping, a lot of times what happens when people are using a type of consolidation model like a lot of the popular standard services, it's very common to see that as soon as the package leaves the US, tracking becomes a little bit less reliable, a little bit finicky, sometimes non-existent. If you look at certain postal carriers, and people don't know until it actually gets to their door. So, there's a big gap in between. You want to be able to showcase what is actually happening with that package.
Andre Storm:
The way that we combat that here at Passport is we create really nice branded tracking page for brands. The reason why we create them is because we have direct integrations to all of the last mile carriers. In this instance, it's Canada Post, who does the last mile delivery. That way, you get accurate ETAs, accurate timelines, no dead tracking. The last thing that we actually Do is handle all the customer support for orders that we ship.
Andre Storm:
Because we are the carrier in this instance, we know what kind of questions that people ask, we know what types of... Everybody asks similar stuff, where is my order, obviously is going to be the top one, but I'm not going to be home, those types of things. We intercept those directly on our page and then escalate anything to the brand that's product related, billing related. The reason why this is important is because as brands enter new markets, or test new markets before doing some type of fulfillment there, you don't want to beef up your staff to really know what's going on, you want things that are actionable. Anything that returns exchanges, anything billing related, et cetera.
Andre Storm:
What I really want to talk to you guys today is the whole notion of DDP. DDP for those unaware, means Duties Deliveries Paid. Essentially, giving your customers the option to prepay duties and taxes. Essentially, what this does is it bypasses the whole customs fiasco, gets it directly to your customers door, as close as you can to mimicking a domestic experience that all of us are used to, or many of us. I saw some people that are from outside of the US in the chat there.
Andre Storm:
With our solution, and there are there are other solutions out there, what we're able to do is pre-collect those duties and taxes, which means that there's no additional handling fees when it gets into the country. You don't have to tell your customers to go travel to the post office to pick it up and pay some additional fees, and then you also bypass obviously, that area where things sometimes get stuck in customs.
Andre Storm:
There's three things that I want to leave you guys with, and they're all somewhat having to do with DDP. The first one is temporary. Right now, if you're shipping cross-border, if you utilize a service that is using the USPS, which is going through a fiasco right now, as I'm sure many of you are privy to. If you utilize a service that uses USPS for a leg of that journey, we're seeing some kind of industry wide delays getting into the cross-border countries.
Andre Storm:
Shipping DDP bypasses the USPS. You're able to essentially get a TSA pre-check scenario and get it directly into country. There's two other macro reasons, and I'll try to keep this quick. They're very nuanced, but I'll do my best here. There's two macro changes that have happened, one that's happening next year, and one that just happened that are really pushing people to make DDP a really imperative part of their business. The first one is next year in July of 2021, the EU is removing what's called the De Minimis and the De Minimis essentially is a threshold by which if your order value was beneath it, duties and taxes are not owed, and if your order value is above it, then duties and taxes can be owed. It gets even more nuanced. They vary by country. Also, some countries have a different De Minimis for taxes and duties, it becomes very complicated.
Andre Storm:
Our app helps you figure all that stuff out. But what does that all mean? It means that starting in July of next year, you either need to utilize European fulfillment, that's one option. But for most brands that ship cross-border, that means you're either going to have to ship DDP and duties and taxes prepaid or 100% of your products, even if they're $1 will get stopped and assessed at the border, and just overall guaranteed, a not very good experience.
Andre Storm:
The second thing I want to bring up to you, which I think is more impactful to brands today, obviously Canada is a huge market, it's our neighbor to the north. There was recently an update to the North American Free Trade Agreement. The update is called the USMCA, the US, Mexico, Canada agreement. What this did, is it raised the De Minimis for taxes and duties in Canada. Raised the tax de minimis from 20 to 40 Canadian dollars and then the duty de minimis from 20 to 150 Canadian dollars. What does that mean? That means if you have an average order value or you have some order profiles that are under $30 US dollars, your products now go duty and tax free, when it was previously 15. But I would assume most of the people fall into the second camp, which is if your average order value, or you have certain order profiles that are under $112 US dollars, they'll now go through duty free, which means that the only thing that your customers would have to pay is the tax, and that tax can vary between 5% to 15%, depending on the province, some things are provincial.
Andre Storm:
What that means is the delta between what people were doing before with DDU and DDP becomes a lot smaller, and depending again, on your order profile, and all of that stuff, it can really result in a lot of savings. I tried to throw it out as fast as I could. There's a lot of new ones here. We do have an offer here for a complimentary DDP analysis, to see if you can take advantage of these new changes. Feel free to reach out to me and my team. We'll send all of our details after and I'll be in the chat and see if we have time for Q&A. Thank you.
Chad Rubin:
Thank you, Andre. I appreciate it. We got one more presentation, it's going to be Tony, it's going to be a good one because I am a big geek on payments and wire transfers, and he knows this stuff. So, we wanted to bring him on. You don't see him on the webinar network, but maybe after this, you will. Then stay tuned for a special guest joining us at the end, there's a lot of questions in the question tab, and I'm going to bring on a guy, a special man named Hendrik, who'll introduce himself, who is a renowned expert in cross-border and everything international and everything domestic as well. He has an awesome newsletter that I've been subscribing to for a very long time. That's where I learned most of my knowledge. Just stay tuned on that, and we're going to give it away to Tony.
Tony Cerbone:
Great. Thanks, Chad. You guys have everything set up. What's really going on here? We have everything set up, and for doing the complimentary shipping, and doing all the supports. But now, how do you get your money? You have your first client, they do their payments, and let's say you expand it to Europe, they send the euros in and now all of a sudden you've got a bunch of euros. What do you do with those euros? How do you get paid? One of my clients called me a couple years ago and said, "Tony, we're utilizing you for all the international payments. We're converting the US dollars to euros, GBP, Aussie dollar, sending it all around the world to do our payments. But, we want to expand into Ireland, we want to do all the Europe. How do we get there? We've set up an office, we've reached out to the bank, we need our corporate bank account, we're trying to get everything set up and regulated. We spent over $10,000, yet they're charging us a ton of money."
Tony Cerbone:
Let's use an example, they're receiving $2,000 a day. Those $2,000, they're being charged 5% to convert the euros into US dollars. That $2,000 is now at $1900. Now, that bank is charging them another $40 to send the money from Europe to the US. So, that $1900 that just turns into $1860. Now that client sent that $1860 to the US, takes two days.
Tony Cerbone:
Now, that $1860 has hit their bank account at $1820, and they freak out, because they say, "Where did the other $40 go?" The bank is trying to explain to them that they take fees out as the money goes cross-border. Now, they've just lost 9% of their revenue before they've ever done anything with it. What is it that they can do to help to supplement that? How do they get rid of that? What we're looking at now is, why is it hard? Why are people having such difficulty moving cross-border? You need to understand what those costs are to get the money from Europe, from those places that you're expanding into, back to the US. What fees are you going to see? How is your client going to send you the money? You're not going to expand into Spain and charge your clients US dollars, you're going to charge them euros. You're not going to go to the UK and charge them USD either. It's got to be in great British pounds. What is it that you need to do in order to get the money there? What are the problems that you're seeing? What can you anticipate and how do you not give away all of your revenue to the banks?
Tony Cerbone:
What we're seeing is, is that in order to help people move the money cross-border, Currencycloud has partnered with Skubana because Skubana has realized that this is a massive problem for small businesses. You're not going to get the good rates that the large corporations get, you need to be able to move that money across the country lines. How do you do that? What can Currencycloud and Skubana help you with? What we're able to do is by utilizing our regulation, the Currencycloud regulation, you can then onboard different bank accounts around the world.
Tony Cerbone:
What you have the access to by integrating with Skubana is you have access to 34 different currencies; Aussie dollar, Mexican pesos, euros, you name it, you'll be able to top up those accounts in those local currencies. Now, you can choose to pay out your suppliers in those currencies or you can convert them. Let's just say you want a collect those 2000 euros in, you can convert those 2000 euros, and then you can make a payment out. Now, the other thing that you can do is you can pay them locally.
Tony Cerbone:
In my example, I was explaining how sometimes they'll take fees out as you're trying to do cross-border payments. If you're integrated with the local networks, you can't take those fees out anymore. So, that money is received in full. That $2,000 just got received as $2,000. You just saved that 9% in the cross-border fees. How is it that you can integrate with these networks? How is it legal that you can do this? By piggybacking off of Currencycloud's regulation, we can supply those bank accounts for you so that you can supply cross-border payments.
Tony Cerbone:
By integrating into this network, you're saving money on the transactions, the fees, as well as the international bank account fees.
Chad Rubin:
Tony, can you also just talk about actually wiring to your vendors abroad too, and talk about how there's all these obfuscated fees in that process because I think this is really enlightening.
Tony Cerbone:
Yeah. One thing that you'll notice is when you send a fee, let's just say you're using Discover Bank, they're going to charge you an international wire fee. Now, that money will most likely not land as full. They'll also charge you an exorbitant amount of money to send that there. What Currencycloud has done is we've integrated with the local banks around the world. Let's say a bank in Australia. That way, we top up the account there for all of our clients, and then we can send it locally.
Tony Cerbone:
For an example is in the US, we use a network that's called the ACH network. When you're sending money around the world, or around the US, you're utilizing that network, which is very cheap. Now, think Venmo. Venmo is just sending the money to the network. The money is available very quickly, but you can't do that internationally. With the integration to those local partners, you can now utilize that kind of network internationally, so you can connect to all those different currencies around the world and send them almost instantaneously.
Chad Rubin:
It's pretty awesome. When we first launch together Skubana and Currencycloud, we were comparing what I typically use for my payments which is Amex FX, and it was like 3.8%. The difference was... I didn't even know that they were taking 3.8% on the currency conversion. I think most people that are dialed in today probably don't know that as well. Make sure that you're just understanding all the hidden fees that go into making wire transfers, whether it's one way or the other way.
Tony Cerbone:
Exactly. Great. Thanks, Chad.
Chad Rubin:
Cool. Yeah. Thank you so much, Tony. All right, time for Q&A. I've never done this before. This is going to be a first. We're going to probably go over for the hour. If you don't want to kick around, it's no worries. First, I want to see if there's any questions. I think we answered most of the questions from the companies that are joining today. This is going to be more of a off the cuff conversation, just having a conversation together. Let me see how I can pull Hendrik into the stage.
Chad Rubin:
There are a few other questions that came in. Actually, before we pull Hendrik in, there are some questions that came in when we launched this webinar. Let me actually pull those up real quick. We're going to have a lightning round, and then we're going to pull Hendrik on stage. Sound good? Cool. All right, the first one it looks like was going to Gorgias. What advice do you give sellers looking to translate their branding and voice to new territories? I think we actually covered that already. Okay. How about live chat? How do you implement live chat for Gorgias, internationally?
Nicole Baqai:
Live chat, like I mentioned, we can detect 54 different languages. If they're on your specific nationality page, I would encourage you to set up different chats according to those different pages. That'll allow you to respond really efficiently and make sure that you're handling all the different inquiries that come in. Live chat, specifically, as I mentioned, drives a lot of revenue, if you can respond really quickly. I highly encourage you to use it. With Gorgias, it comes out of the box with our perform. It takes almost no time to set up.
Chad Rubin:
Okay, great. Then, what are some mistakes you're seeing people make in territories? Any big mistakes you can call attention to?
Nicole Baqai:
Yeah, like I said, not having the well organized views sets and tags and same with not responding in the right language or the dialect of that country. Making sure that, that autoresponder is in the correct language or you're assigning to the right team. So you're not just scrambling and trying to figure out. Really understand your customer base before you're just using a generic language, but understand who it's coming from, and do some analysis on your customers.
Chad Rubin:
All right. ShipBob, you've got fulfillment centers located internationally. You mentioned, I think, two of them that you've just built. What's the vision for further international growth?
Anthony Watson:
Our goal is to mirror the level of economies of scale that we have in the domestic US and our offering there. We're looking to mirror that into our international locations. I think, expanding our geographic coverage in Canada and the EU as well as our carrier coverage and being able to offer a similar level of resources that we do in the US and venturing into new space. There's some learnings to be had, new carrier integrations, new payments integrations, new customer service, and translation, integrations, all of these things, you have to Frankenstein them a monster together using all of our great brands.
Anthony Watson:
Past that, I think, pending Europe going well, probably Southeast Asia as well. We've had a lot of requests for customers that actually have Australian end customers. There's an absolute lack of fulfillment, delivery, transport solutions in Australia. We're looking, hopefully by the end of the year, next year, to be in Southeast Asia as well.
Chad Rubin:
Andre, how do you guarantee duties and taxes? Provide an estimate.
Andre Storm:
What's that?
Chad Rubin:
How do you guarantee duties and taxes or provide and estimate? How does that process work for you? How do you implement it? How do you implement Passport as well?
Andre Storm:
Yeah, definitely. We guarantee duties and taxes that are collected in cart and we do that... It's unique to us because we do take the onus as the carrier, in this instance. We pull all of our information from the shopping cart, so Shopify, WooCommerce, Magento, virtually any cart and use that for providing dues and taxes.
Andre Storm:
Passport implementation, it typically only takes about a week or two, we have a pretty unique model, because we typically work through virtue of 3PLs. We have a bunch of 3PLs in our network, and a lot of the work from an infrastructure perspective is front loaded. Getting up and live and getting the app and all that stuff typically takes about a week.
Chad Rubin:
Got it. Okay. I think we covered most of those questions that came in. Thank you so much for joining. As panelists, thanks for contributing to this, guys. We're about to extend in a big way. I'm going to join Hendrik on. If you want to stay around for this awesome session, please do. If you want to yield your time and you want to just go back to what you were doing, please feel free. I just sent the invite to Hendrik, let's see if he joins. This is going to be fun.
Chad Rubin:
Again, I've never done this before. So, hopefully we break the internet here Kim Kardashian style. It says getting ready. Hendrik, you're getting ready. Let's see if there's anything else that came in here
Tony Cerbone:
He's waiting for his intro music.
Chad Rubin:
Is he? Okay.
Andre Storm:
I think one thing we talked about is experimenting when you're going cross-border using a service like Passport is the perfect way to get that first foot in the door. You don't have to invest our inventory into a different country. It's a really great way to eliminate the thorny parts of the customer relationship with that end delivery. That a lot of them end up having to go to their local customs facility, or the local post office to actually go pick up and then pay additional on top of the premium they're already paying for the duty. Using something like Passport is actually an excellent first step in the door to make sure that you do have a market that you're actually reaching into. I came full circle.
Chad Rubin:
Nice.
Tony Cerbone:
He planned it all out.
Chad Rubin:
Tony, is there anything you want to talk about in terms of the obfuscation of payments going the other way? Because I know, you've gone into a ton of detail. If you can just share some quick insight on that, and then we're moving right into Hendrik who's just joined.
Tony Cerbone:
Sure. When you're sending payments out, the key here is topping up the accounts quickly and getting the money out quickly. Really what you are looking for is that they receive the total amount of money. The last thing you want to do is send money out internationally, and have it receive [inaudible 01:05:08] than people not processing your orders.
Tony Cerbone:
The really important thing is how do you get around the timelines, and how do you get around getting the payments there in its full amount? What you want to do is by utilizing the Currencycloud network, is you can actually top up the money locally, and then pay it out locally, internationally, and that way, you're not having to pay and wait for those extended timelines.
Chad Rubin:
Cool. All right, without further ado, we've got who I consider the eCommerce whisperer, Hendrik. Hendrik, if you don't mind just introducing yourself a bit. Also, if you don't mind sharing your newsletter. Don't worry, it's not that you're being self-promotional, it's actually just that you drop a lot of value on us. Would you mind just sharing a little bit about your background and where you focus your attention and time?
Hendrik Laubscher:
No problem, Chad. Yes, my name is Hendrik Laubscher, I'm the founder and chief analyst of a company with the name of Blue Cape Ventures. We're a boutique research consultancy, which specializes in marketplaces and cross-border eCommerce. I've worked a decade in eCommerce in emerging markets, and these days I advise brands with ARR and GMV of anything between $25 million to $40 billion.
Hendrik Laubscher:
Have been in the space for years. Cross-border to me is arguably the most exciting part of eCommerce just because of the fact that it's growing at gangbusters before COVID. It's just a case of, I'm trying to help people understand what's going on in the market. Thus, my newsletter is essentially a weekly summary of what's in the news, what is newsworthy and what's important to be aware of.
Chad Rubin:
How do people find you or your newsletter?
Hendrik Laubscher:
The easiest way to do it is Gina was very... As usual, very efficient. The easiest way to [inaudible 01:07:02] is my Twitter handle. I've been at the top of it, my newsletter all the other ways, just go to my blog, and then there's a section for newsletter and then you can subscribe for it.
Chad Rubin:
Got it. Very cool. All right, let's drop some value if we can, it sounds like Andre is going to jump... Again, if you want to stick around, please feel free. I'm just a nerd like that, I like to explore these topics in a deeper way. Being that you're so focused internationally, I guess what are you seeing around the world right now? What are the marketplaces that eCommerce merchants in the United States should be capitalizing on? Walk me through what's going on in your brain as I mentioned those topics?
Hendrik Laubscher:
For me, as a person sitting outside the US, I think, as you mentioned, for me, number one, is if you're a US brand, number one is you should be thinking very hard about Canada and you should be thinking very odd about Mexico in that order, just because of the fact that it's close by, it gives you access to consumers close by. There's no need for investment in terms of customer service in foreign timezones and all of that, but also, for me, it's a very natural extension because your logistics operations are close by and it doesn't really require a huge amount of investment. That's the one issue.
Hendrik Laubscher:
The second issue is that one of the mistakes I see very often is that brands and businesses of all sizes is going to cross-border too quick. I think what's very important is that when you go cross-border, you have to have a... Like you mentioned in your slides, put your foot in the water, but don't swim. Because if you swim, you might have to dive and then it becomes really bad.
Hendrik Laubscher:
I believe very strongly that if you want to taste international, the most easiest way to do that off the bat is to do the unthinkable, use Amazon for a month or two, and leverage the superior SEO in local markets, the fact that they have all of the ecosystem already in place, logistics -
Chad Rubin:
You're saying Amazon, even though in China or in... I'm sure you get this.
Hendrik Laubscher:
Amazon in Europe, definitely. Amazon in Japan, definitely, Amazon in India, definitely. But as I said earlier, start small. Go to Amazon Canada as step number one. Then step number two, go to Amazon Mexico, and then use that marketplace as base speed. I think there's this inherent fear that all brands are going to miss out on cross-border. No, they're not. It's a trillion dollar opportunity. But the point is, is that you can lose hundreds of millions of dollars if you don't do this right. Use the marketplace, and then depending on your capabilities and what you're seeing in terms of sales, then you invest by using partners to create a local business that has a website that you then drive traffic to, which you are then controlling the consumer. Because this is all about owning the consumer. I hate saying that, but that is the truth. You don't want to use a marketplace for a long time, but it's the easiest and most safest way.
Chad Rubin:
There was a question that came in from Mark, actually, a customer of ours, [Caraway 01:10:39], and he was saying, without being too biased, what are some of the pros and cons of using maybe a distributor or a reseller online, internationally to expand versus actually going out of yourself?
Hendrik Laubscher:
One, you mentioned that right off the bat. I think step number one would be as a brand owner, you've invested millions of dollars into your IP, you need to ensure that you have the trademarks and all of that registered before you go into any market. That's number one. Number two, I think with everything in life, it's about trying to understand what the end goals are. For me, distributors, I've had not great experiences with distributors in the sense that you're just one of many brands and in general, it hurts businesses because they're only about looking at the bottom line and not doing the right thing.
Hendrik Laubscher:
You can have customer experience problems, which leads to massive amounts of unhappiness for consumers. Where sometimes one of the other questions people mentioned, using local partners. I think for me, that is an easier way. I.e. if you go into Mexico, use an agency or a business that the core business is helping people on a marketplace in Mexico or in Canada. Because the problem with all of these businesses, especially the distributors is that if they want to move product, they are a licensee, and they generate revenue no matter how many products you sell. Whereas, if you'd go via an agency or a partner, or somebody experiencing the market, your brand is going to get premium attention, and you're going to replicate the consumer experience in your own market, outside the whole market, if that makes sense.
Chad Rubin:
Yeah, for sure. I think it's important for me, at least, to share that for a D2C brand, you need to have a one-to-one connection with your customer. Anytime you have a middleman in the middle, there's room for disintermediation. These middlemen really don't really care about your brand at the end of the day. Like you've mentioned is that they're here to take on as many brands as possible, put them through the funnel and to just spray and pray into the market.
Hendrik Laubscher:
Sadly, that is so. But I think for me, as I say, again, cross-border eCommerce is a really expensive situation, in the sense that it's not hard, it's just complicated. I think, it's easy to say that, you can open free shipping for a month or two and take the plane, but the problem is, is that, it's also you're creating expectations for consumers, that potentially might not be the same. The next time I go back to the brand, suddenly, it's no longer free shopping and I have to go shopping.
Hendrik Laubscher:
I know it's not a popular opinion to use a marketplace, but use it sparingly, as I said, for a month to two months maximum. Take your learnings from it. These marketplaces have data that they provide you and then based off those learnings, then invest into your own business by using businesses such as... From a D2C's point of view, Passport that was just on earlier, they are cool to work with. Use... I'm just trying to think a flow in New Jersey, they work with D2C brands. There all these businesses that you can use, but that's only after you have market validation.
Hendrik Laubscher:
Don't go to invest millions of dollars, looking for market validation. First validate whether there is a need for your brand, and then you go into the market.
Chad Rubin:
The next thing that comes to mind is well, you're going to use the marketplace, but rest assured that the marketplace is also going to use you in a way, because you're just another brand. You're leveraging their platform. Amazon does this all the time, where they see what you're selling, they manufacture now, not everything, but at least they are in the business of collecting data. This is one point in your life where you can actually use them to collect data as well.
Hendrik Laubscher:
Yes, yes, yes. I think also, it's very important to mention to our listeners is that, I'm not saying that you must put your entire selection on Amazon. That's not what I'm saying. What I've seen in brands is, in some cases might have the [inaudible 01:15:19] and ability to actually develop a product that's only available on the marketplace that's related to a euro product or they upload for example, not the top 10 best sellers, but products that are in the middle group of sales, so that it doesn't hurt the top line of the business, but it also provides you with validation. Because in general, any brand does not know how the brand will sell in a foreign market. If anybody claims that they have that science, I'm here to see it and I've been in this space a decade, and I haven't found out any method that works, with the exception of going via this.
Hendrik Laubscher:
But also, Chad, the other thing to mention is that, if you're going into an emerging market like Brazil or Southeast Asia or India or in the Middle East, or Mexico for example, people have to understand that most, if not all people are going to the marketplace because that is where everything is. Because the markets are so underdeveloped, marketplaces, we are the eyeballs of... Sorry. The point is that, in those cases, it makes sense to use the marketplace, but also, as I say, again, it's buyer beware at all times.
Hendrik Laubscher:
But as I say, small amount of skews, not too much, most profitable skews by any chance. But understand that you're collecting data from between four to eight weeks. Generally for me, the sweet spot is at week six and then from there on, you can make decisions about what is the next step?
Chad Rubin:
All right, we got three more minutes, lightning round. I'm going to have you on for a bigger webinar tour. But this was just us dipping the toes in the water in a way. Let's just say, okay, the argument is Amazon Germany is bigger than Amazon Mexico and Amazon Canada. Where else should people be looking for growth right now, especially if you're a fast growing hyper growth brand in the United States? I know you're mentioning Canada, and you're mentioning Mexico, but where else should people be looking? Is it by category? You mentioned some marketplaces, or give us some nuggets here for those that decide to stay on to do what others weren't willing to do on the webinar.
Hendrik Laubscher:
I think the most important thing that people need to understand is I would do... For me, the first step that I would do before any decision is, I would go and find out what is the actual COVID shipping... What's going on in terms of the company in terms of COVID, and what countries are opening faster? They are For example, Spain, Italy, France, the European Union is further along opening than the US. That's an important thing to use.
Hendrik Laubscher:
The EU, for me is always an opportunity. Also, the fact is that their consumers are more willing to shop online and in cases, are looking for value. These fast growing D2C brands are providing value by creating quality products. For me, that makes total sense. But I think it's all about understanding that essentially, you are wanting to ensure that you are able to control to the degree, your customer experience.
Hendrik Laubscher:
Germany is, I think, six or seven hours ahead of the US. So, it's not that bad. But if you go and you want to go to Japan or China or one of these really big markets, which are important, that's very, very far along. From there on, basically... For me, basically go across the Atlantic, Europe, in order of priority from where I'm sitting and I have no interest in any market or any country. I don't get paid by their travel businesses. Germany would be the one that I'd look at, number one, then I'd go to Spain, then I'd go to the UK and the like, and the like. The major reason is, is that in Germany, the government has done a lot of work to ensure that eCommerce has basically been almost unimpacted because of the regulations with regards to COVID.
Chad Rubin:
Got it. How about getting to China really quick before China starts copying you? Is there any suggestion you have there before we hop off?
Hendrik Laubscher:
Number one, if you're dealing with somebody in China that manufactures your product, which I'm sure many of the listeners and webinar viewers are, number one, make sure that you have a watertight contract with that manufacturer to make it very clear that they only manufacture that product for you, and they can't manufacture it for anybody else, number one. Number two, trademark, copyright is vital in that market. I can't stress that enough. Three, ensure that there are almost always products that they are some degree of final elements that need to be done in your home market. It's not a finely finished product in China, just because of the fact that it's you leaving yourself a degree of protection against copying.
Hendrik Laubscher:
But also I think the other thing I just want to jump on and say here is that this is another mistake I also see especially D2C brands make, China is a really important market, but it's also a very large, very expensive, and is not one of the markets that you should be going to in the first two years of going global. No, no, no, no, get your house in order, use North America, then Europe, then a bit of Latin America, and then you've got all everything solved. Then you go off to the big market, China.
Chad Rubin:
Awesome. You heard it here first. Thank you everyone for joining. Thank you, Hendrik for volunteering to come on stage and for dropping value. To be continued into the next session that we jam together. Thanks, everybody.
Written By
Gina Tirelli
Gina Tirelli manages Partner Marketing initiatives at Extensiv, the leading retail inventory and order management software for D2C brands and marketplace sellers looking to unify and automate their multichannel operations. When Gina is not marketing ecommerce software, she likes to spend time outdoors with her dog Elli.